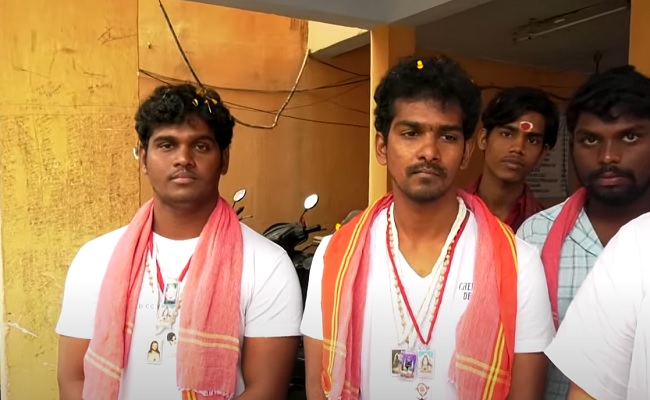 We often come across staunch devotees of various gods taking "deeksha" and wearing "mala" of their favourite gods and goddesses.
So, there are devotees who wear Ayyappa Mala for Lord Ayyappa, Bhavani Mala for goddess Kanaka Durga, Hanuman Mala for Lord Hanuman and Shiva Mala for Lord Shiva of Srisailam.
But here is a new kind of devotion not for gods, but for film star-turned-politician Pawan Kalyan.
The fans of Pawan Kalyan have now started this latest trend of wearing "Pawan Mala" out of reverence for him on the occasion of his birthday on September 2.
A large number of fans of Pawan Kalyan from Palakollu in West Godavari district have announced that they would wear red stoles around their neck in the name of "Pawan Mala" and take up a deeksha for 49 days on the occasion of his 49th birthday.
For these 49 days, they vowed to take up Pawan Kalyan's programmes and ideals into the people and campaign for his success in politics.
"We shall follow stringent deeksha with all sincerity and do public service taking inspiration from the power star," they announced.
They said as true Jana Sainkins, they would go into the people, campaign for the party and strive to bring good name to the power star.
Is it not height of sycophancy?