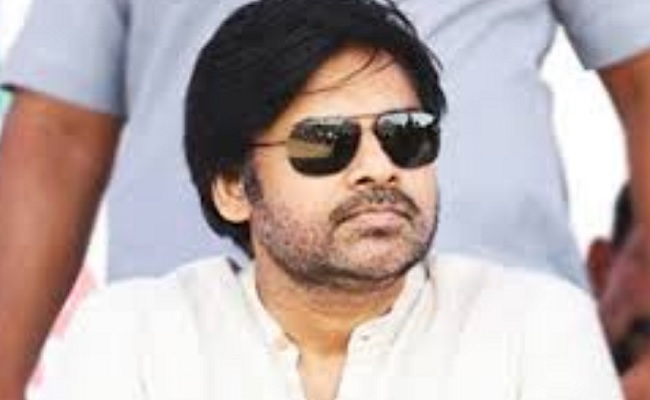 It is an open secret that Jana Sena Party president and actor Pawan Kalyan has been following the line of Telugu Desam Party led by N Chandrababu Naidu in attacking the YSR Congress party led by Y S Jagan Mohan Reddy, though he has been trying to project himself as an independent leader.
While the TDP has extended support to Pawan Kalyan's long march in Visakhapatnam on November 3 to highlight the sand crisis, the Jana Sena extended support to Naidu's Sand Deeksha in Vijayawada on Thursday.
The bonhomie between Naidu and Pawan Kalyan was once again evident when the TDP chief came in support of Jana Sena chief in his speech at Vijayawada deeksha.
He said just because Pawan Kalyan had launched an agitation against sand crisis, the YSR leaders had been targeting him personally.
In an indirect reference to YSRC president and chief minister Y S Jagan Mohan Reddy's comments mentioning Pawan's polygamy, Naidu said: "Does Jagan tolerate if we make personal comments against him and his family? The YSRC leaders are launching counter-attack on those who question the government's policies."
And Pawan Kalyan had a hearty talk with the TDP leaders including Kesineni Nani, Varla Ramaiah, N Rama Naidu and Bhuma Akhila Priya when they came to Raj Bhavan, where he was meeting Governor Bishwabhushan Harichandan.
Nani gave a handshake to Pawan and complimented him for continuing his fight against the government despite losing the elections, unlike his brother Chiranjeevi who opted out of politics.
Pawan Kalyan also exchanged pleasantries with Akhila Priya, with whom he had acquaintance since the days of Praja Rajyam.
He advised her to face the false cases foisted against her and her husband boldly and extended his support to her.
So, what do all these developments indicate? It is anybody's guess!