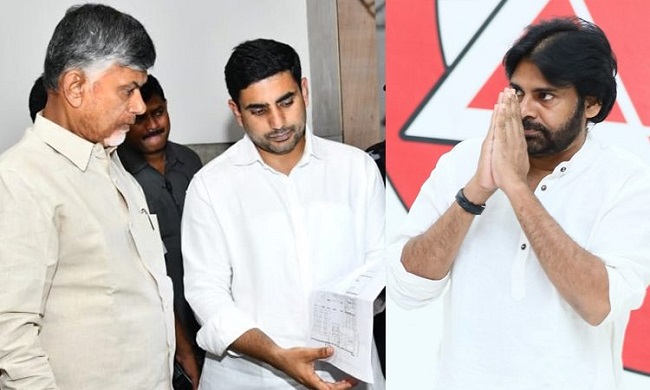 The shocking phenomenon in Andhra Pradesh right now is that the opposition parties are so weak to imagine. They are giving victory to YS Jagan Mohan Reddy's YSRCP with their wrong calculations and foolish speeches.
Even after losing the latest Municipal election, the tweets of Nara Lokesh are making the TDP a laughing stock.
His fresh tweet after losing the election- "When can the blue brains (YSRCP party men) understand that the entire population in the state has rejected YS Jagan Mohan Reddy? YSRCP leaders are hallucinating that the voters have slapped my cheeks. But they should know that they won only because of fake votes, money, gundagiri and police support".
This is the height of fun from the son of TDP's supremo. This has been an age-old practice of Chandrababu and Lokesh to cry foul whenever lost in an election.
The mindless tweets, spine-less warnings, and senseless speeches of the opposition party heads are bringing more aversion on TDP and sympathy for YS Jagan Mohan Reddy among the people. The reflection is clearly seen in the latest Municipal election results.
But still Lokesh is feeling that he won the election on moral grounds. But his little brain should understand that there won't be those many victories like - moral, legal, religious, practical and all. The victory is only won. TDP lost and YSRCP won with a thumping majority. That's the matter of fact now.
Like Puri Jagannath wrote in a film "The one who loses the war speaks about righteousness". Lokesh, Pawan and CBN stand as an example for this line.
The mindless acts of these three brought victory to Jagan in 2019. It is sure that these three are enough to retain the power of YS Jagan Mohan Reddy even in 2024 elections.
Kiran Sharma
Click Here for Latest Direct-to-OTT Releases (List Updates Daily)