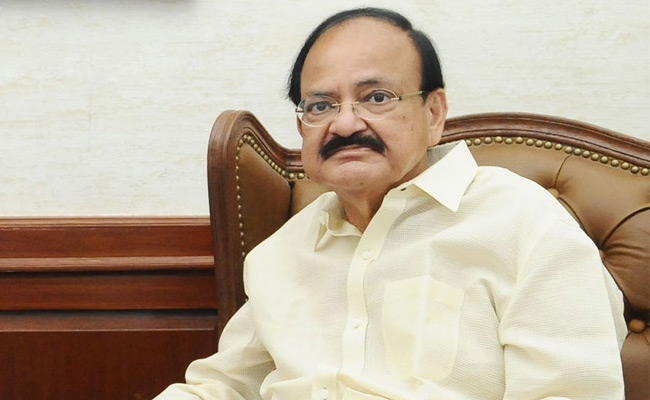 When the Bharatiya Janata Party national leadership ignored the candidature of Vice-President of India M Venkaiah Naidu for the Presidential elections, it was a big disappointment for a section of people, particularly those belonging to his community in Andhra Pradesh.
Till the last moment, they had high hopes on the BJP leadership finalising Venkaiah as the Presidential candidate. But it announced the name of Droupadi Murmu, all their hopes were dashed.
Yet, they have been nurturing hopes that Venkaiah would at least be given extension as the Vice President for a second successive term.
Lending credence to their hopes, the top BJP leaders flooded him with greetings on his birthday on Friday and particularly, Modi heaped praises on Venkaiah for his contribution to the nation.
But highly placed sources said the chances of Venkaiah to get the extension as Vice President of India are very bleak, as the BJP leadership already has shortlisted a few names for the post, notification for which was issued on Wednesday last.
According to the reports from New Delhi, the BJP has short-listed some names as the possible Vice Presidential candidates, including Karnataka governor Thawar Chand Gehlot, Kerala governor Arif Mohammad Khan and Union minister Mukthar Abbas Naqvi.
Even the name of former deputy speaker of Lok Sabha Najma Heptulla is being heard in the power corridors
Sources said the BJP government is preferring to choose a Muslim Vice President in order to eliminate the concerns that are prevailing in relation to Nupur Sharma's case.
Among these names, Naqvi stands a better chance, as he is a scholar and an intellectual who will raise his voice if something wrong happens in his community.
However, Arif Mohammad Khan is also considered a wise choice because of his strong political record and wide experience in administration.
According to the schedule, July 19 is the last date for filing nominations and withdrawals will be allowed till July 22. The voting will be conducted on August 6 and, on the very same day, the results will be declared.
Venkaiah Naidu's term is ending on August 10.
"It is most likely that Venkaiah will not be nominated again for the second term, as the BJP will use the power of the Vice Presidential poll to increase its appeal," sources said.