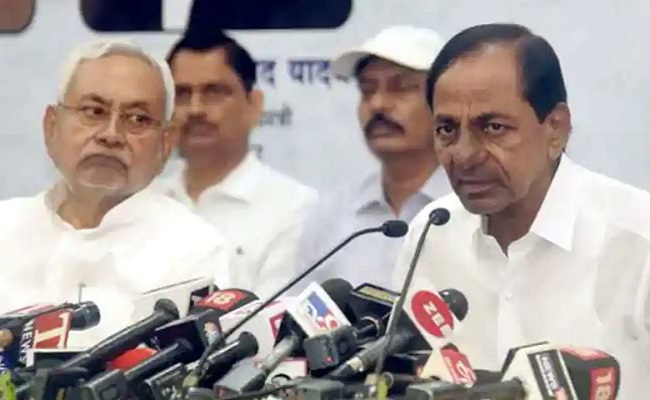 How does a husband, who buys a cotton saree to his wife on her birthday, feel when his neighbour gifts a diamond necklace to her?
"Well, the husband obviously gets hurt. Though it is a bad comparison, Bihar chief minister Nitish Kumar got the same feeling on Wednesday, when Telangana chief minister presented cheques of Rs 10 lakh each to the families of five army jawans from Bihar who lost their lives in clashes with the Chinese soldiers at Galwan Valley in North Ladakh in May 2020."
This was the observation of a journalist on watching KCR's drama at Patna on Wednesday. He said though KCR presenting Rs 10 lakh to the families of Galwan martyrs can be a humanitarian gesture, it definitely had political overtones.
First of all, there are certain rules in payment of ex gratia and other benefits to the martyrs of armed forces. The Central government had done its duty as per the norms. From the state government side, too, Nitish Kumar had already extended benefits to these families as per the norms.
"So, KCR coming to Patna to distribute Rs 10 lakh to the families of Galwan martyrs was obviously irritating to Nitish, since it amounts to Telangana outscoring Bihar in extending benefits to them," he said.
Secondly, the timing of KCR's gesture to the martyrs' families is also not appropriate. More than two years after making the promises, KCR has found time to come to Patna to distribute the cheques to the martyrs' families.
So, it is obviously being viewed in political angle.
"As long as Nitish had an alliance with the BJP, KCR did not go to Patna. Now that Nitish is out of the NDA and has turned anti-Modi, the Telangana CM rushed there in the name of distribution of cheques to the martyrs' families. The reason is very obvious," the journalist said.
That Nitish was unhappy was evident from the way he tried to get up and walk out of the joint press conference when KCR started speaking on political issues with Patna journalists. It was a sort of insult to KCR, when Nitish wanted to walk out when the former was still speaking to the media.
"Being a seasoned politician, Nitish doesn't want to mix up an official programme with politics. He did not like to create the impression that he is part of KCR's ambitious national mission. He has his own strategies," another senior journalist said.