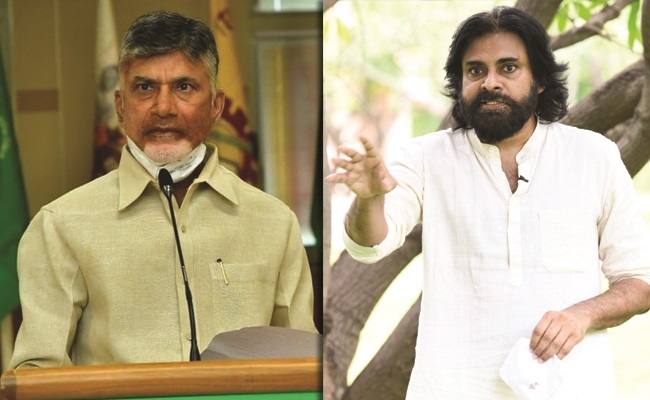 There is more to the statement made by Telugu Desam Party president and former Andhra Pradesh chief minister N Chandrababu Naidu on the possibility of an alliance with Jana Sena Party of actor Pawan Kalyan than what meets the eye.
At an interaction with the TDP cadres in Kuppam on Thursday, Naidu, in a reply to a suggestion from a party worker about a possible alliance with Jana Sena Party, said it cannot be one-side love affair.
"We are ready to work with Pawan Kalyan, but there should be response from the other side as well. It cannot be one-side love. An alliance works out only when there is a two-side love," Naidu said, thereby hinting that his party can have an alliance with the Jana Sena in the next elections.
Though on Friday, Naidu tried to clarify to the media saying he was only making a general statement on alliances, it was evident that the question from the party worker and the response from Naidu were perfectly planned to send signals to Jana Sena chief.
He, however, tried to cover-up his statement as it indicates his party's weakness to fight alone in the elections.
"Alliances between political parties would be discussed only at the time of elections. I was talking about one-side love track only to explain that alliances are based on mutual understanding and they will not work out from only one side," he said.
The TDP chief said his party had never banked on only alliances to win the elections.
"Our party won the elections and lost the elections irrespective of the alliances. It is very common in politics," he clarified.
However, the TDP chief has sought to send feelers to Pawan Kalyan that the TDP is ready for an alliance with Jana Sena in the coming years, thereby throwing the ball into the court of the power star.
It is learnt the Jana Sena Party might discuss this issue of alliance with the TDP at its executive committee meeting to be held in Mangalagiri on Sunday. Pawan Kalyan may give clarity on this talk at the meeting.
At present, Jana Sena is in alliance with the BJP but everybody knows all is not well between the two parties for now.
Whether Pawan will dump the BJP and accept the friendly hand from Naidu will have to be watched.