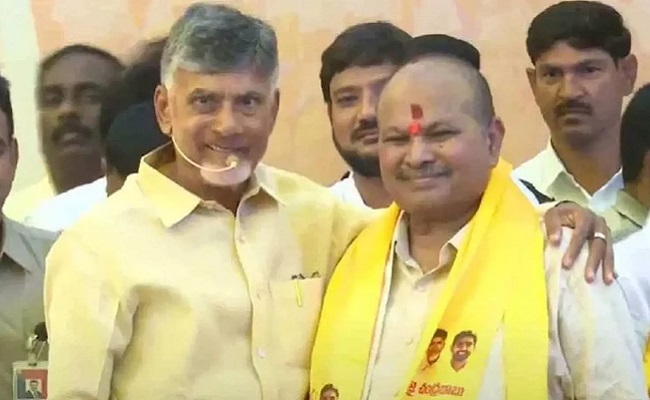 It is an open secret that Telugu Desam Party president and former Andhra Pradesh chief minister N Chandrababu Naidu has been making every effort to get back into the good books of the Bharatiya Janata Party for quite some.
Though the BJP leadership has been refusing to touch him with a barge pole, he has never given up his attempts to come closer to the saffron party. Whenever there is an opportunity, he tries to meet the top BJP leaders including Prime Minister Narendra Modi.
The TDP chief has not been taking any steps that would antagonise the BJP. He supported the BJP candidate in Presidential and Vice Presidential elections and issued statements in support of the Central budget and other decisions of the Modi government.
However, the BJP leaders have made it clear that there is no question of having an alliance with the TDP again and their only alliance partner is Jana Sena Party led by power star Pawan Kalyan. Yet, Naidu has not uttered a single word against the BJP.
Under these circumstances, the admission of former BJP state president Kanna Lakshminarayana into the TDP on Wednesday makes one wonder whether Naidu has decided to antagonise the BJP leadership and what its implications would be.
Along with Kanna, more than 1,000 BJP workers, including those who had earlier worked as district BJP presidents, joined the TDP, much to the chagrin of the saffron party.
There are reports that many other BJP leaders including P Vishnukumar Raju, A Adinarayana Reddy, Kamineni Srinivas and Varadapuram Suri also might join the TDP sooner or later.
Reports said the BJP national leadership had a talk with some of these leaders and tried to pacify them. Apparently, the BJP leadership is taking seriously the way Naidu has been admitting the BJP leaders.
However, the TDP chief is careful in not making any comments against the BJP before admitting them. Even those who are joining the TDP are not making any comments on Delhi leaders, but are complaining about only state BJP chief Somu Veerraju.
It remains to be seen how the BJP would handle the situation and if begins taking revenge against Naidu, it will be a big trouble for him before the elections!