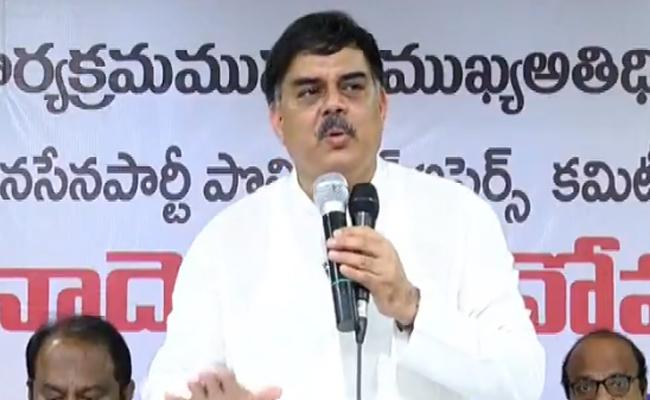 Power star and Jana Sena Party president Pawan Kalyan's meeting with Prime Minister Narendra Modi at Visakhapatnam 10 days ago is understood to have led to serious discussions within the party.
According to sources, Modi's advice to Pawan Kalyan not to take any hasty decision with regard to tie-up with the Telugu Desam Party led by former chief minister N Chandrababu Naidu was not taken kindly by some party leaders, particularly, Jana Sena political affairs committee convenor Nadendla Manohar.
As reported earlier, the Prime Minister reportedly asked Pawan Kalyan to continue the alliance with the BJP or contest the elections independently, instead of forging an alliance with the TDP.
Modi reportedly assured that he would take care of the interests of Pawan Kalyan and the BJP would extend all possible help to Jana Sena, if it wants to contest the elections independently.
The BJP leaders' argument is that if the TDP is prevented from coming to power in the 2023 elections, it will be the end of the road for Chandrababu Naidu, who would turn 80 years and won't be able to contest the elections again. Then Pawan could emerge as an alternative to the people, they say.
If Pawan has an alliance with the TDP and brings Naidu back to power, the latter would dump the Jana Sena conveniently and doesn't allow it to grow politically, as he had done with the BJP. Moreover, Naidu is an unreliable leader and is known for his use and throw strategies.
However, some of Pawan Kalyan's senior colleagues in the party including Nadendla, are learnt to have advised him to take his own decision, instead of acting according to the directions of the BJP, which has little or no presence in Andhra Pradesh.
They have told Pawan that the BJP is trying to make its presence felt at the cost of the Jana Sena and the whole intention of the BJP national leadership is to see that Jagan will remain in power for the next five years.
"Why should we fall into BJP's trap and help Jagan to come to power again? What is the purpose of our fight all these days against the Jagan government?" they reportedly asked him.
These Jana Sena leaders also point out that the argument that Naidu would fade out by 2029 also applies to the BJP.
"By 2020, Modi also would be turning 80 and he, too, might not have the capacity to rule the country. There is no guarantee that the BJP will fulfil its obligation towards the Jana Sena then. It is only trying to grow in AP on the strength of Jana Sena," a Jana Sena leader said.
That is why Pawan Kalyan is unable to take a call on what he should do: to oblige Modi's request or go with the TDP.