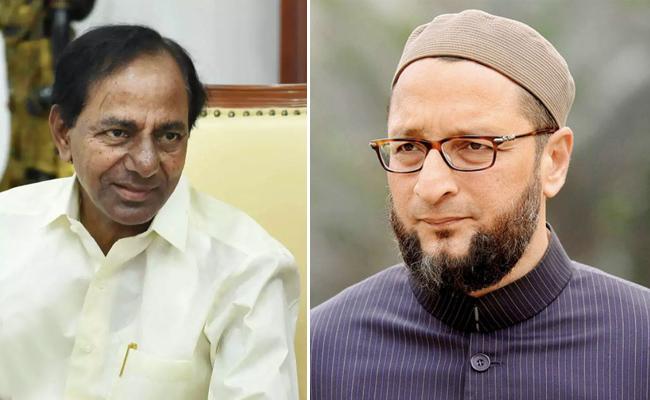 Even as Telangana Rashtra Samithi president K Chandrasekhar Rao is getting ready to launch his national party on Vijaya Dasami next week, his friendly party – All India Majlis-e-Ittehadul Muslimeen (AIMIM) – led by Hyderabad MP Asaduddin Owaisi appears to have decided to cut off the friendship with the TRS.
Though Owaisi is still a good friend of KCR, he is learnt to have realised that the latter's national party plans will backfire and it will ultimately affect the chances of the TRS in the next assembly elections.
There is also a talk that it was because of KCR's wrong political strategies that the Bharatiya Janata Party has become stronger in Telangana over the last few months and might wrest power from the TRS.
Because of the understanding with the TRS, the MIM has hitherto been confined to a few assembly seats in the old city of Hyderabad. Now, Owaisi wants to expand his party's footprints to other parts of Telangana, where there is a sizeable Muslim population.
"If the AIMIM is confined to just seven seats, the BJP, with the help of the Modi government at the Centre, will make every effort to crush it. If the AIMIM has at least 12-15 MLAs in the assembly, it can put up a stiff resistance to the BJP," sources said.
According to these sources, the MIM is eyeing some strong Muslim-dominated constituencies in Adilabad, Nizamabad, Karimnagar, where the party has strong cadre. The party had also won quite a few seats in Nizamabad, Nirmal and Adilabad municipalities.
The AIMIM is also hoping to lure the OBC and Dalit sections in parts of northern Telangana by offering them seats.
"Since there is severe anti-incumbency against the TRS, those who do not want the BJP to replace the TRS might tilt towards the AIMIM," the party sources said.
In the event of the Congress winning majority seats in the assembly elections leading to a hung situation, the MIM might prefer to sail with it. For that, it has to prepare the ground from now on. Hence, it wants to get out of the influence of KCR, sources added.