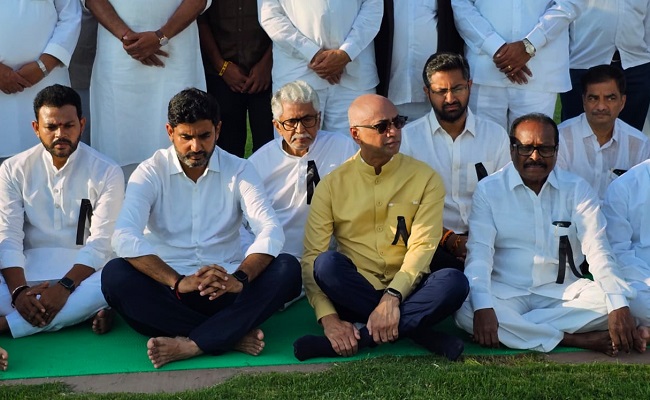 TDP general secretary Nara Lokesh is actively seeking an appointment with Union Home Minister Amit Shah.
Lokesh is currently in the national capital, engaging in discussions with Supreme Court advocates and national media journalists.
Sources indicate that he is making serious efforts to secure a meeting with the Union Home Minister. He intends to convey to the minister that the Andhra Pradesh government has arrested his father, Chandrababu Naidu.
Lokesh has been working diligently in the national capital to gain the attention of national media and prominent leaders.
He is also attempting to establish contact with senior figures in national politics and brief them on his father's arrest and subsequent imprisonment.
Reports suggest that he has made efforts to reach out to NCP chief Sharad Pawar in Mumbai or Delhi and is using various channels to connect with Pawar.
Additionally, Lokesh is exerting pressure on party MP Kesineni Srinivas to arrange meetings with top BJP leaders.
Kesineni has close ties with Union Minister Nitin Gadkari, and Lokesh hopes to leverage this connection to reach BJP leaders.
Lokesh is also lobbying with BJP leaders Sujana Chowdary and YSRCP rebel MP Raghurama Krishnam Raju to facilitate meetings with BJP leaders during his stay in Delhi.
Meanwhile, there is speculation in Andhra Pradesh that Lokesh may face arrest upon his return to the state. The APCID has named him in the Skill Development Scam, and he is likely to be arrested in connection with the case.
It remains to be seen what awaits Lokesh in both Delhi and his home state of Andhra Pradesh in the coming days.