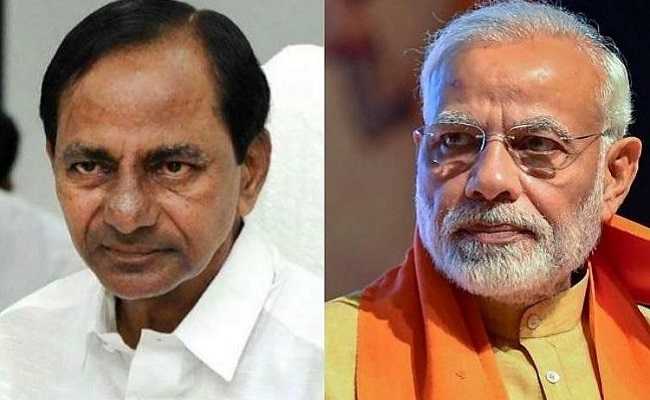 When the Chief Minister's Office of Telangana sent a message to all the media houses at around 11.15 pm on Thursday night stating that an important announcement would be made shortly, all the media houses rescheduled their printing schedules hoping that there might be some major development in Telangana politics.
But half an hour later, there was a lengthy statement from the CMO saying that Telangana Rashtra Samithi president and chief minster K Chandrasekhar Rao would embark on a tour to different parts of the country as part of his "national mission."
It said KCR would attend several national-level political and social programmes. But going by his tour schedule, there is nothing surprising or new in his action plan and everything appeared to be just a repetition of what he had done in the past.
He is leaving for New Delhi on Friday and during his stay in the national capital, he would hold meeting with political, media and economic experts. But there is no clarity on who these experts are, when he is going to meet and where they are scheduled to be held.
The CMO release said on May 22, KCR will visit Chandigarh where he will console the families of about 600 farmers belonging to Punjab, Haryana, Uttar Pradesh and Delhi, who sacrificed their lives during the farmers' movement against the three contentious farm laws proposed by the Centre.
He will distribute cheques worth Rs 3 lakh each, along with Delhi Chief Minister Arvind Kejriwal and Punjab Chief Minister Bhagawanth Mann. But this programme is also not new and one wonders how it would be part of his "national mission."
There is no information as to what the chief minister would between May 23 and 26. The only programme shared with the media was that he would leave for Bengaluru on May 26 and hold talks with former Prime Minister HD Deve Gowda and former Chief Minister HD Kumaraswamy.
Both of them had already declared that there was no use of any federal front or a third front in the country.
The next day, he will go to Ralegan Siddhi in Maharashtra where he is scheduled to meet social activist Anna Hazare. Later, he will visit Shirdi for darshan of Sri Saibaba. Again, this has nothing to do with KCR's plan to enter national politics.
Apparently, it appears KCR's tour is just a time-pass activity. He wants to avoid Prime Minister Narendra Modi, who is coming to Telangana on May 26. If he is in the state, he would have to receive the PM and he cannot escape it on lame excuses.
If he suddenly goes on tour on May 26 also, it would lead to a lot of criticism that he had deliberately left Hyderabad only to avoid PM. So, he went on a week-long activity, sources said.