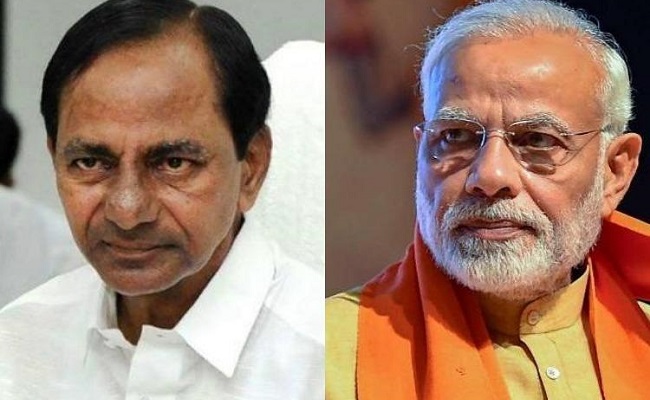 For the last few weeks, Telangana Rashtra Samithi president and chief minister K Chandrasekhar Rao has been supporting every decision of Prime Minister Narendra Modi on fighting the Coronavirus pandemic.
Such was the affinity KCR had developed towards Modi that he shouted at some sections of people, including media persons, for making fun of the PM's call to the people for clapping and lighting the lamps to express their solidarity with the centre to fight the Coronavirus.
At the video-conference with Modi and in a letter written to him later, the Telangana chief minister made several suggestions to the Centre, including strict enforcement of lockdown for another two weeks without any relaxations, introducing helicopter money or resorting to quantitative easing to overcome liquidity crunch and linking of agriculture labour work with NREGA.
But the Prime Minister did not consider even a single suggestion of KCR. Instead, he followed many of the suggestions given by YSR Congress party president and Andhra Pradesh chief minister Y S Jagan Mohan Reddy. And that made KCR angry.
While announcing extension of lockdown till May 3, the PM issued certain guidelines which completely went against KCR's proposals.
The chief minister felt that the guidelines come as a shocker and completely undermine all the efforts that have gone in to check the spread of Coronavirus in the country so far.
According to a report that appeared in TRS mouthpiece daily, the guidelines make a mockery of the lockdown norms and hold out little to the state governments that have been faithfully been implementing the clampdown even at the cost of their respective economies.
Modi virtually followed Jagan's suggestions including opening up many sectors from April 20, from industries operating in areas outside corporation limits to roadside dhabas, from e-commerce companies to self-employed persons in service sectors like electricians, plumbers and carpenters, and IT and ITeS companies with deployment up to 50 per cent.
Sources said KCR has decided to defy the Central guidelines and would go ahead with stricter implementation of the lockdown norms in the State since only that would benefit the people, and protect them, in the longer run.