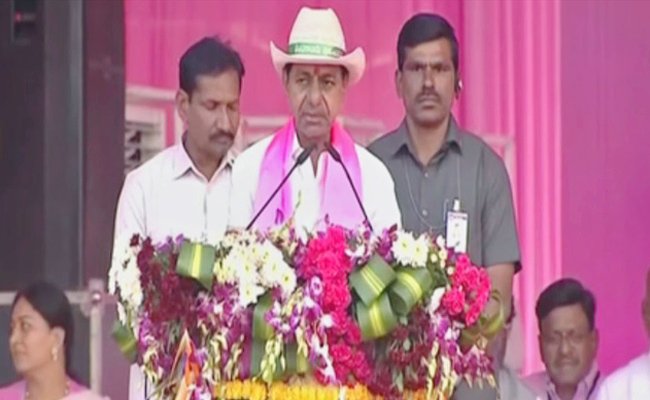 It appears Bharat Rashtra Samithi president and Telangana chief minister K Chandrasekhar Rao, too, has endorsed Visakhapatnam as the executive capital of Andhra Pradesh, as proposed by YSR Congress party president and chief minister Y S Jagan Mohan Reddy.
It was indicated by prominent Kapu leader and newly-appointed president of BRS Andhra Pradesh unit Thota Chandrasekhar on Wednesday.
He said the BRS would soon organise a massive public meeting in Visakhapatnam to formally kickstart the party activities in Andhra and win the support of the people. The date and time for the public rally would be announced soon," Chandrasekhar said.
Earlier, there were indications from the BRS leaders that the party might organise the huge public rally at Vijayawada or Guntur as part of its launch in Andhra.
There were also reports that KCR had asked Chandrasekhar to identify a suitable place for the construction of BRS office near Guntur or Vijayawada.
This led to the talk that KCR is supporting Amaravati capital region and is of the view that it would remain a permanent capital of Andhra.
But with Thota announcing the rally at Visakhapatnam, the focus has now shifted to Visakhapatnam and the party office might also be established there.
Interestingly, Thota Chandrasekhar rubbished the allegations levelled by the Bharatiya Janata Party legislator from Dubbak M Raghunandan Rao that KCR had rewarded him with 40 acres of prime land worth Rs 4,000 crore at Miyapur in Hyderabad.
The BRS leader dared the BJP leader to prove the allegations and if proved, to take the land for himself. He stated that Raghunandan Rao was making the allegations to divert attention from the BRS meeting and from the BJP's cheap politics.
Chandrasekhar said the BRS was all set to play a key role in national politics. He said party president KCR would replicate the Telangana model of development and welfare at the national level through the BRS.