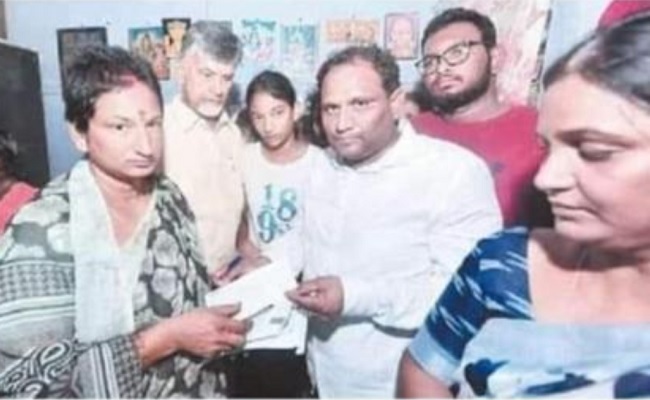 The families of eight victims of stampede at Telugu Desam Party president and former Andhra Pradesh chief minister N Chandrababu Naidu's rally at Kandukuru in Nellore district on December 28 have been feeling cheated and betrayed by the party.
For, according to an information leaked by the YSR Congress party, the victims have not received the ex-gratia amount of Rs 24 lakh per head as announced by the TDP leaders, including Rs 10 lakh per head announced by party president N Chandrababu Naidu.
Instead, cheques distributed by the TDP leader c for part of the amount bounced and the ex-gratia amount never reached to the families of the deceased, the YSRC disclosed on Thursday.
The families of the deceased who already lost their loved ones in an unnatural, man-made stampede felt cheated by the fake sympathy shown by the TDP leaders.
"They expressed that they already lost their family members due to petty politics of TDP and their show optics. Now even after their death, TDP is robbing them and cheating on them," the ruling party said.
Brushing off responsibility from their shoulders, TDP chief Chandrababu Naidu blamed police officials and escaped accountability for getting 11 people killed in his two consecutive events.
Eight were killed in Kandukur, Nellore on Dec 28 in a stampede that occurred at Chandrababu Naidu's rally due to TDP's show optics. Failing to learn from their mistake, the other three lost their lives on January 1, in Guntur in Naidu's other event.
"The TDP risked the lives of its own people by shrinking the roads to show a larger crowd in visuals. While putting up banners and hoardings on the roads, they didn't bother to cover the large pothole or put up a warning sign, due to the same, several people fell in the drain during the stampede," the YSRC said.
Not just this, rather than sympathizing with people for their loss, Chandrababu Naidu went on to ridicule these deaths by enumerating castes of the dead victims for petty politics. He went further and schooled attendees on how to be disciplined among heavy crowds.
"The remark was further a show of arrogance and apathy. Unsurprisingly, this isn't the first incident. Several similar incidents have happened earlier," the YSRC said.
People of the state are noting everything and are aware of the traits of the Telugu Desam Party. They are the fair judge of all injustices and surely, their perception will be reflected in their verdict in coming polls, the ruling party added.