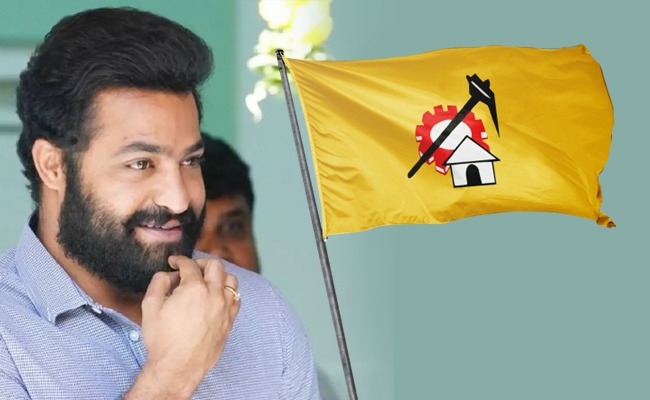 Except Chandrababu Naidu, everybody in the TDP are believing that the party can be rescued only with the entry of Jr NTR into the politics.
Though there are many indications surrounding this opinion, recently the TDP leader Gorantla Butchiah Chowdary voiced out this opinion publicly in Rajahmundry.
As per the inside sources it is said that many biggies from the community close to the TDP are forcing Jr NTR by emotionally blackmailing him.
The apparent sentimental words from the biggies to Jr NTR are, "You belong to us. People identify you as a hero of our community. TDP is yours. You should come forward in these bad times at least to save the party floated by your beloved grandfather".
But Jr NTR is not giving any response but simply ignoring. It goes without saying that the personal feelings of him play a vital role here.
A person close to Jr NTR who shared this information has expressed, "He will not fall for any sentimental games now. He is being accepted as a hero by all the communities at present. Biologically also he cannot be confined to a single community. He is not emotionally inclined towards the present leadership of TDP and the people of that family. His heart distanced from that family after the demise of his father. The only close person to him from that family is Kalyan Ram. Moreover his film career is at its peak. He cannot do part time politics just for the sake of TDP. What I know is he has no plans to think about politics before 2029".
In fact, there were many hearsays regarding how Jr NTR was insulted by the family members with their use and throw mentality.
Coming to the practical points, Jr NTR campaigned for TDP in 2009 and met with an accident as well. But the party couldn't win. It is a general opinion that TDP can never win sympathy from the public. Even when Chandrababu was hit by Alipiri blast in 2003, he lost the 2004 election to Congress.
History says that TDP came to power either by monopolistic media support or by alliances. Right now there is no media monopoly nor any ally. On the other hand YSRCP's grip on the voters is too strong. It will be a wise thing for Jr NTR to wait till the anti incumbency wave in the state.
Click Here for Latest Direct-to-OTT Releases (List Updates Daily)