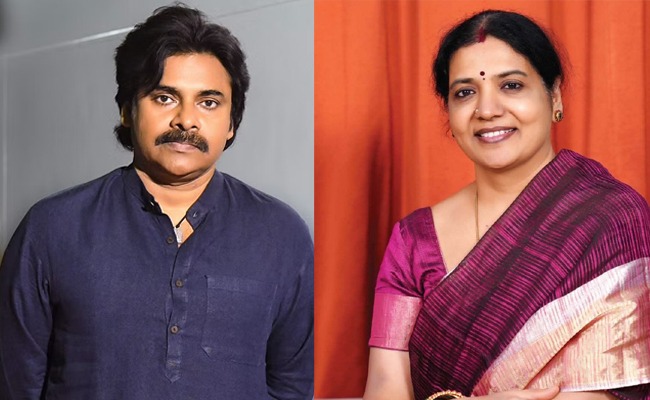 Actresss-turned-part time politician Jeevitha Rajasekhar, who had returned to the Bharatiya Janata Party in January 2021 but has been inactive in politics since then, has suddenly started evincing interest in politics once again.
On Thursday, Jeevitha made a surprising appearance at the residence of power star and Jana Sena Party chief Pawan Kalyan in Hyderabad. She is understood to have met the power star to discuss her future electoral politics.
According to sources, Jeevitha is contemplating contesting the next assembly elections in Telangana on behalf of the BJP and she is learnt to have sought the support of Pawan Kalyan. Both of them had discussions for over 15 minutes and the outcome of the meeting is not immediately known.
Interestingly, Jeevitha and her husband Rajasekhar are known for their utter contempt towards mega family, particularly Chiranjeevi. During the elections to Movie Artistes Association, Jeevitha vehemently opposed the candidates backed by Chiranjeevi.
Against this backdrop, Jeevitha's meeting with Pawan Kalyan led to a lot of curiosity. Since Pawan Kalyan has an alliance with the BJP, she might have sought his help to get a BJP ticket.
But if she wants to contest the elections in Telangana, Pawan might not be of much help to her, as there is no alliance between the BJP and Jana Sena in Telangana which Pawan himself declared openly in the past.
So, Jeevitha might be contemplating contesting the elections in Andhra, particularly in Chittoor area, which have close connections with Tamil Nadu, from where Rajasekhar hails.
For now, the picture is hazy and how and where Pawan would help Jeevitha is still a question mark. But one thing is clear. Jeevitha wants to get back into active politics and she has met Pawan Kalyan only for political purposes.
Jeevitha and Rajasekhar started their political journey with the Congress and left the party when Chiranjeevi merged his Praja Rajyam Party with the Congress. Later, they joined the BJP in 2014.
In April 2019, the couple had joined the YSRCP in April 2019 just before the assembly elections, they could not continue there for long. Later, they returned to the Telangana BJP in January 2021.