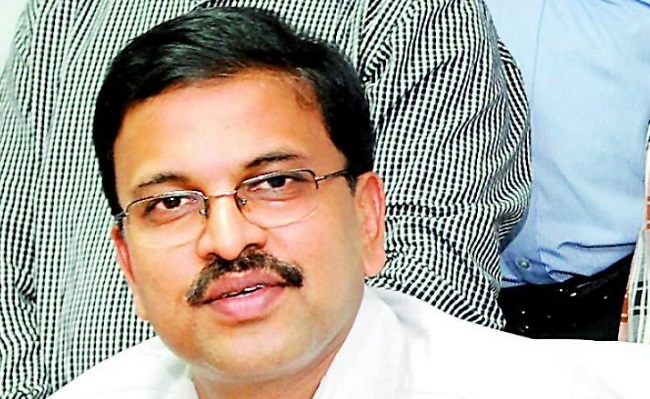 Former joint director of Central Bureau of Investigation (CBI) V V Lakshminarayana, who called it quits to the Jana Sena Party floated by power star Pawan Kalyan a few months ago, now appears to be inching towards saffron brigade.
A couple of days ago, Lakshminarayana visited the office of Vishwa Hindu Parishad, Telangana unit, at Koti in Hyderabad and took part in its activities.
He wore a light saffron shirt and VHP kanduwa (shawl), much to the surprise of visitors.
He addressed the gathering and lauded the services of VHP for the protection of Hindu Dharma.
He said he was very much delighted to meet the people who have been striving uphold the spirit of Hinduism.
What is more, Lakshminaryana also expressed concern over the sustained attacks on Hindus and the attempts of vested interests to bring about split in the Hindu society.
He also called for a change in the educational curriculum so as to make children understand the values of Hinduism.
It clearly showed the former CBI joint director was inclined towards the saffron groups. May be, he is toying with the idea of joining the Bharatiya Janata Party, while taking part in pro-Hindu activities of the VHP.
In fact, in February itself, Lakshminarayana dropped enough hints that he might be joining the BJP. He was all praise for the Union budget 2020 introduced by the BJP-led NDA government in Parliament on Saturday.
"The budget is people-friendly and allocations to various sectors are very encouraging. Steps have been taken to encourage youth towards agriculture sector," he said, adding that it was the responsibility of the MPs from Andhra Pradesh to secure more funds to the state.
Lakshminarayana also expressed view that there was nothing wrong with the Citizenship Amendment Act introduced by the Centre.
"It is only about providing citizenship to minorities in Pakistan, Afghanistan and Bangladesh facing persecution. It does no harm to the Muslim minorities in India," he said.
The only issue is whether the former CBI JD would appreciate the BJP joining hands with Jana Sena Party in any manner.