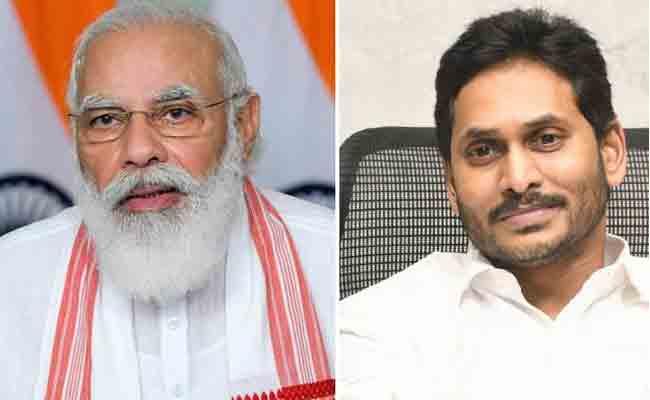 Will YSR Congress party president and Andhra Pradesh chief minister Y S Jagan Mohan Reddy keep away from the programme of Prime Minister Narendra Modi at Bhimavaram town in Narasapuram district on July 4?
According to reports in a section of media, Jagan has intimated to the Prime Minister's Office (PMO) that he would not be available in the state to take part in Modi's programme at Bhimavaram, as he was going on a tour to Paris along with his wife Y S Bharati.
Jagan is leaving for Paris on June 28 to attend the graduation day celebrations of his eldest daughter Harsha Reddy who completed her Post Graduation (MBA) at Insead Business School.
As per the schedule leaked by the CMO officials, Jagan would be returning on July 2. But according to the latest reports, the chief minister might stay there till July 5, before returning to Andhra Pradesh.
However, the speculation over delay in his return to the state has arisen when he asked for a 10-day permission form the CBI special court to go abroad. The court, too, granted him permission to go to Paris for 10 days.
So, Jagan will have time till July 8. However, since he has called for holding of YSR Congress party plenary in the state on July 8 and 9, he would have to return by then. That is, he is expected to return by July 5.
Sources said there are more than one reason for Jagan deciding to skip the Prime Minister's programme.
First of all, it is a very brief programme to unveil the statue of revolutionary freedom fighter Alluri Sitarama Raju; and the chief minister has to be present only for courtesy sake.
Secondly, the entire programme is being organised by the Union ministry of culture and tourism as part of Azad ki Amrut Mahotsav and the state government has little say in that. So, even if Jagan ignores it, it makes no difference.
Thirdly, there is a talk that it is going to be an out-and-out BJP show and a large number of BJP leaders are invited for the same. It would be embarrassing for Jagan to be among them.
Lastly, there is a chance that rebel leader Kanumuru Raghu Ramakrishna Raju might attend the programme as he is a local MP. He might accompany the Prime Minister. Since Jagan would not like to share the dais with him, he wants to avoid the programme altogether, sources added.