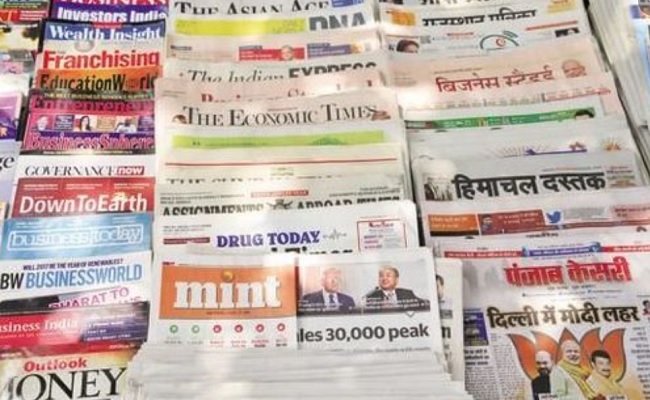 The print media in India seems to be the worst victim of the corona virus these days. The industry, which is already hit by the digital media is now almost on ventilator these days.
There are fears that the newspaper delivered at the door step is the carrier of the virus and people are keeping it aside these days.
Though some of the newspapers have started sanitasing it at the printing stage, the readers are worried about the virus spread through the delivery boys and agents.
The newspapers reach the agents and hawkers early in the morning from printing press. The paper is handled by several persons right from the packing workers in the printing press to the transporters who deliver it to the agents and hawkers.
Then from the agents and hawkers, the paper goes into the hands of the delivery boys who take it to the door steps of the readers.
In all the paper is touched by or changes the hands of at least half-a-dozen persons in the process before it reaches the reader.
This is where the readers are worried about the spread of the virus.
Several experts have said that the virus does not spread through the newspaper which is printed with several colours, all mixed with chemicals and is sanetised before it is packed.
People seems to have no problem with the milk packets or vegetables which change hands in the process right from the initial stage to the consumer at the end point.
While the groceries are packed, though not sure if they are sanetised, the vegetables and other essentials are not sanetised and there is danger of several hands touching them in the process of delivery.
However, people seem to be cautious of the newspaper, though it is not a carrier of the virus.
The stigma had cost dearly for the industry and the newspapers have brought down the number of pages during these days. Some papers have given up printing and have limited their presence to the digital version.
The only fear is that some newspapers, which are really hit by financial crisis much before the virus outbreak, might end up permanently closed by the end of the epidemic.
The death of some historical newspapers may be seen this time and the managements may find it convenient to down their shutters once for all.