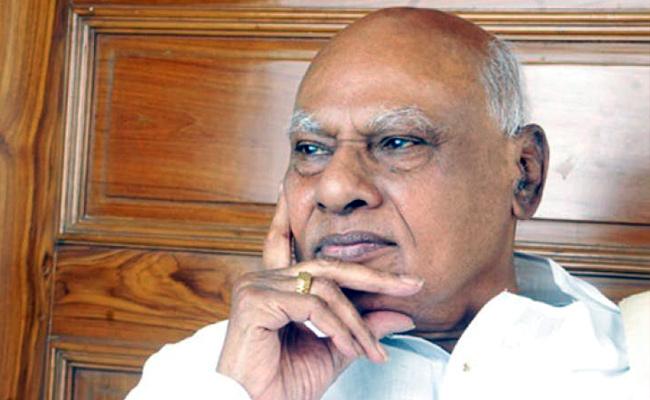 Eenadu continues to exhibit its anti-Jagan stand openly. It was clear on Saturday while it published the news online about the death of former Chief Minister K Rosaiah.
Eenadu carried the condolence messages from various leaders. It prominently carried the condolence messages of Telangana Chief Minister K Chandrasekhar Rao, TDP president N Chandrababu Naidu, film actor and former Union Minister K Chiranjeevi.
The newspaper carried messages of these leaders running into two to three sentences, while it had just mentioned the condolence message from Jagan in just one sentence consisting of just 8 words.
The newspaper in its online edition or the Etv in its breaking news or scrolling, had given little space for Andhra Pradesh Chief Minister.
The presentation of news giving highest priority to Chandrababu Naidu and others and insignificant reference to Jagan's message only indicates how antagonised Ramoji Rao is.
The Eenadu group has been continuously carrying negative stories about Jagan Mohan Reddy government from the day one, despite the government giving full page advertisements.
Eenadu and Ramoji Rao have their own political agenda that goes against Congress in the past and YSR Congress now.
Though not as blatant as Andhra Jyothi and TV5, the Eenadu group also plants stories against the state government, particularly focusing on Chief Minister Y S Jagan Mohan Reddy.
Ramoji Rao, though doesn't appear on TV screen like Vemuri Radha Krishna, carries the political agenda of TDP chief N Chandrababu Naidu.
However, with the emergence of social media, people are not taking these reports seriously and it was clearly seen in the 2019 general elections.
Despite these media groups carrying anti-Jagan, anti-YSR Congress reports and pro-Chandrababu Naidu and pro-TDP reports, people have given a historic victory to Jagan and crushing defeat to Chandrababu Naidu.
Even now, the mood of the people is the same as it was before the 2019 general elections and it doesn't matter to them whether Eenadu ignores or recognizes Jagan. But this is the observation which should be noted.