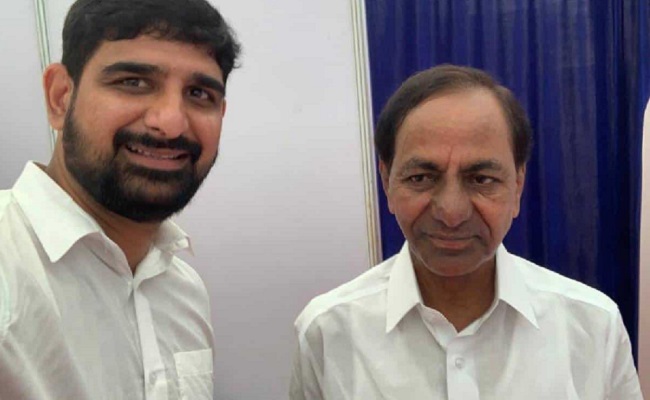 If the talk going on in the Telangana Rashtra Samithi circles has to be believed, Padi Kaushik Reddy, who defected from the Congress to the TRS ahead of the by-election to Huzurabad assembly seat, is likely to be discarded by the party leadership.
Kaushik Reddy, who happens to be the cousin of former Pradesh Congress Committee president N Uttam Kumar Reddy, contested on the Congress ticket in the last assembly elections held in December 2018 from Huzurabad and secured around 61,000 votes.
Just a few months before the Huzurabad by-elections this year, Kaushik Reddy was lured by the TRS. In fact, he claimed that he was chosen as the TRS candidate for the by-polls to fight against BJP candidate Eatala Rajender. He was sacked from the Congress subsequently.
Later, Kaushik Reddy joined the party in the presence of TRS president and chief minister K Chandrasekhar Rao, who nominated him to the state legislative council under the Governor's quota, hoping that he would of great help to the TRS in the Huzurabad by-election.
However, Governor Tamilisai Soundararajan kept his nomination under abeyance on the ground that he doesn't fit into the social service category under which he was nominated to the council by KCR. It is still pending with the Governor.
Meanwhile, the TRS lost the Huzurabad by-poll to the BJP. Though the TRS leadership thought Kaushik Reddy, who secured 39 per cent of votes last time, would shift all his vote bank to the TRS, it did not happen. On the other hand, Kaushik Reddy's defection to the TRS turned out to be a negative factor for him.
It is learnt KCR is terribly upset with Kaushik Reddy for failing to make an impact on the TRS prospects in Huzurabad.
He has reportedly decided to withdraw his nomination to the MLC post under the Governor's quota now.
Though there is a talk that Kaushik might be sent to the legislative council under MLAs' quota, it is unlikely to happen as there are too many contenders for the same and he doesn't fit into the caste calculations.
Sources said KCR might not give any other post to Kaushik Reddy for now and might promise him to give the TRS ticket from Huzurabad in the next assembly elections.
Since it is very difficult to win the seat against Eatala Rajender, the political fate of Kaushik Reddy would be more or less sealed!