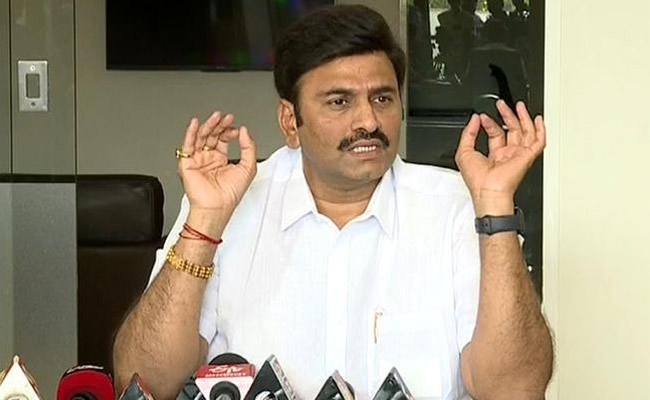 YSRCP Rebel MP, K Raghurama Krishnam Raju, has been holding press conferences everyday either in Delhi or in Hyderabad.
He had been doing so for the past two years and the yellow media gives live coverage for the press briefing.
He holds the press briefing daily for one hour and the media gives live coverage without fail.
For those who watch the media regularly, will be able to understand that his press conferences are live telecast mostly in the afternoons. Afternoons are the commercial time for most of the channels, where sponsored programmes are telecast.
He holds the press briefings very rarely in the mornings and thus it is said that the live telecast is a paid show.
Like commercial programmes that are telecast in the afternoon slots, Raghurama Krishnam Raju's press conferences too are telecast live.
He talks with a button mike to his shirt and with the yellow media logos kept on the table. One hardly finds journalists for such a press conference, if one closely watches the press briefing.
The media might have given him a comfortable package for two reasons, to bring his cost down and use his voice against Jagan Mohan Reddy government.
However, there are rumours in the media that the slots are purchased by TDP and offered to Raghurama Krishnam Raju to speak against Jagan as that would indirectly benefit the TDP.
The media is not so generous to give an MP the daily live coverage for one hour and going by this, the rumours are substantiated that Raghurama Krishnam Raju's press briefings are paid programmes.
The only fact to be known is how much is paid and who is paying for these daily briefings which are live telecast.