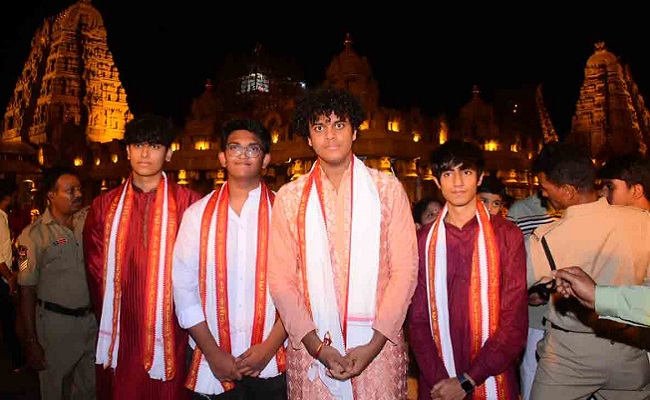 Himanshu Rao, the 18-year-old son of BRS working president and IT minister K.T. Rama Rao, is creating 'political hungama' in Telangana with his 'tours' in districts.
On Wednesday, Himanshu Rao visited the famous Basara Saraswathi temple and Yadadri Laxmi Narasimha Swamy temple with his friends.
Himanshu is neither an MLA nor an MP, but the kind of hungama created by BRS leaders and cadre in Undivided Adilabad and Nalgonda districts during his visit fueled speculations in BRS circles that Himanshu is indeed preparing the ground to foray into politics and making moves to contest Assembly elections, at least by 2028.
For now, Himanshu is just a student who recently completed Class 12 and is set to pursue graduation in the US.
BRS MLAs and party's elected representatives, such as sarpanches, ZPTCs, MPTCs, and chairpersons of various corporations, held rallies in Basara and Yadadri to receive Himanshu.
They raised slogans like "Himanshu Zindabad" and "Himanshu Nayakatvam Vardhillali" (May Himanshu's leadership thrive).
Himanshu, too, appeared to have enjoyed the media and political attention he received and posed for photographers and videographers. BRS leaders and the general public rushed to take selfies with him, which he obliged.
Temple officials in Basara and Yadadri stopped darshan for the general public until Himanshu and his friends performed special pujas. This caused several hardships for the general public who were forced to stand in queues in the scorching heat.
This invited criticism from people who questioned the official position held by Himanshu, which made officials stop darshans for the general public.
Officials faced the wrath for extending the protocol to Himanshu as if he were a Chief Minister or a cabinet minister or held some other constitutional post.
Himanshu is the grandson of Chief Minister K. Chandrashekar Rao and son of Minister K.T. Rama Rao. Are these positions inferior to any constitutional post? ask BRS leaders.