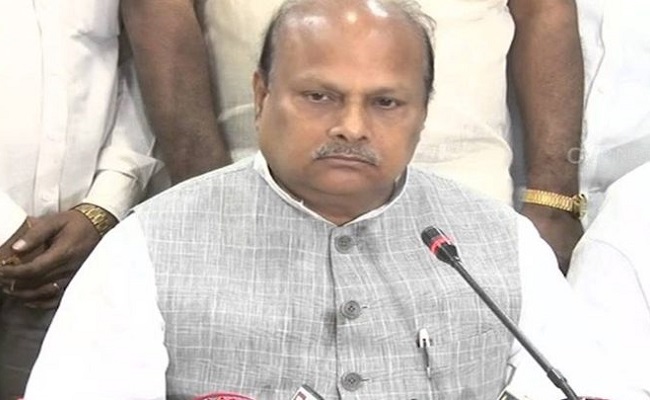 It looks like the YSRCP government in Andhra Pradesh has decided to crack the whip on the troublesome TDP leaders one after the other so that the party doesn't recover in the near future.
The arrests of the senior Telugu Desam Party leaders – former minister and party's deputy floor leader in the assembly Kinjarapu Atchen Naidu on Friday and former MLA from Tadipatri J C Prabhakar Reddy on Saturday – by the Andhra Pradesh in a pre-dawn swoop on their residences clearly indicated the Jagan government's strategy.
This has led to the talk in the political circles that the YSRC government has prepared a hit list of the TDP leaders who were allegedly involved in various scandals and economic offences during the Chandrababu Naidu regime.
Apart from their alleged scams, it appears that those TDP leaders who had created troubles for YSR family in the past are also the prime targets for the Jagan Mohan Reddy government.
It was an open secret that Atchen's elder brother and former MP late Kinjarapu Yerran Naidu who had filed the petition in the state high court and was responsible for the arrest of Jagan in the alleged quid pro quo case filed by the CBI.
And Atchen Naidu, too, has been regularly attacking the Jagan government for the last one year. So, it was natural that Jagan was looking for an opportunity to take revenge on Kinjarapu family. The ESI scam involving Atchen has provided such an opportunity to Jagan.
Similarly, JC family in Anantapur had been rivals to the YSR family for several decades. JC Diwakar Reddy never used to be in good terms with late Y S Rajasekhar Reddy when the latter was alive.
And though they were defeated in the last elections, the JC brothers had become tough nuts for Jagan after the YSRC came to power last year. So, Jagan government targeted their illegal transport operations and dug out several irregularities leading to their arrests.
Now, the talk is who is next in the hit list of Jagan. According to sources, the next target for the YSRC government is former finance minister Yanamala Ramakrishnudu, who has been the backbone of the TDP.
It was because of Yanamala, the Jagan government could not get the three capitals bills passed in the legislative council resulting in a stalemate on the shifting of capital from Amaravati to Visakhapatnam.
In fact, Tuni MLA Raja has already announced that Yanamala will also be arrested very shortly. However, it is not yet known in what scandal the former finance minister is going to be fixed.
Click Here for Latest Direct-to-OTT Releases (List Updates Daily)