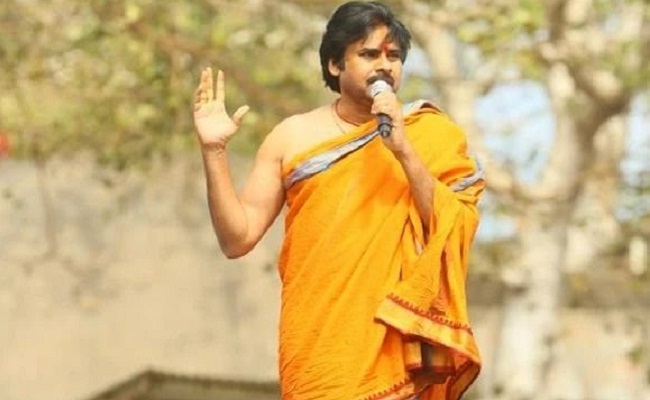 Generally, it is believed that film stars and celebrities, or for that matter even politicians, are highly superstitious. We have seen many such celebrities including Chiranjeevi or Nagajuna or Mahesh Babu; or leaders like KCR, or even Jagan or N Chandrababu Naidu.
They do believe in auspicious muhurtams, good omens and performing yagams and prayers before taking up any new activity, whether it commencement of new film project or launching a new party.
But power star Pawan Kalyan has never appeared to be very superstitious, unlike other politicians and film celebrities.
In fact, we have been given the impression that he is Left-oriented, as he often talks about Bolivian revolutionary Che Guevara, or Tarimela Nagi Reddy and even Leftist thinkers like Guntur Seshendra Sharma or even Gaddar.
Surprisingly, after 2019, Pawan Kalyan dumped his Leftist ideology (though he still speaks in such a tone and tenor) and joined hands with ultra-rightist Bharatiya Janata Party.
Though he did not preach or practise the RSS ideology, Pawan often came in support of the BJP thinking, like opposing the vandalization of temples, desecration of idols of various deities during the Jagan Mohan Reddy regime.
Sources said Pawan is, in fact, more superstitious than many people.
"He sports a Jandhyam (Upaveetham) on the lines of Brahmins and Vysyas and is more religious. He commences any work or project as per auspicious muhurtam," a source said.
He also believes in conducting Hindu rituals like Yagnams and special pujas on important occasions. There are reports that he goes by the suggestions of a spiritual guru in West Godavari district, who is performing Raja Shyamala Yagam for Pawan.
The way Pawan Kalyan performed special prayers at Kondagattu temple, wearing saffron clothes and is embarking on the visit of 32 Lord Narasimha Swamy temples across the Telugu states shows how spiritual Pawan Kalyan is.
Maybe, the power star will come out with more such activities before the next assembly elections in AP!