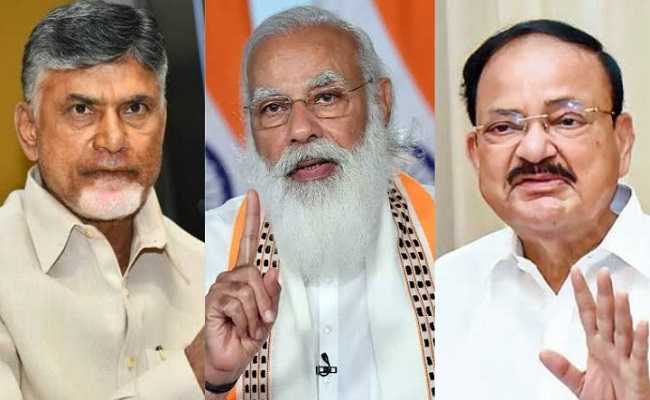 The decision of the Bharatiya Janata Party to field a tribal woman and former Jharkhand Governor Draupadi Murmu has virtually shattered the hopes of the cash-rich and politically active community in Andhra Pradesh.
Since Tuesday afternoon, this community people have been circulating rumours about the finalisation of Vice President of India M Venkaiah Naidu's candidature for the Presidential elections by the Narendra Modi government.
The speculations gained momentum after Venkaiah Naidu suddenly left for New Delhi in the afternoon after taking part in the International Yoga Day celebrations in Hyderabad.
In the evening, top BJP leaders including Union home minister Amit Shah, defence minister Rajnath Singh and party national president J P Nadda went to Venkaiah's residence and held an hour-long meeting with him, lending credence to the speculations that he might be named as the NDA candidate for Presidential elections.
But finally by 9 pm, the BJP parliamentary board decided to field Draupadi Murmu as the Presidential candidate of the NDA. Apparently, the Shah-led team informed Venkaiah about the same and wished him good luck.
More than Venkaiah, the decision appears to have hurt the two major Telugu dailies promoted by his caste lobby. One of them even wrote a special story how Modi and his team had sidelined Venkaiah after utilising his services to climb up the ladder.
The article pointed out how Venkaiah had supported Modi during the Gujarat riots and campaigned for the latter's promotion as the Prime Minister.
"Yet, Modi dumped him like a hot potato," the article said.
Now, this powerful caste lobby appears to be losing ground in Delhi gradually. Already, Sujana Chowdary completed his Rajya Sabha term and was not given an extension.
Now Venkaiah will be relinquishing his office in August; while another top Constitutional head will also be completing his term in the same month.
With that this lobby will have no presence in the national capital to influence any section at the top level. This will be really a bad news for the caste group ion general and Telugu Desam Party supremo N Chandrababu Naidu in particular.
"It is for sure that as long as Modi is in power, the chances of this caste lobby wielding any power in the national power corridors are bleak," a source in Delhi said.