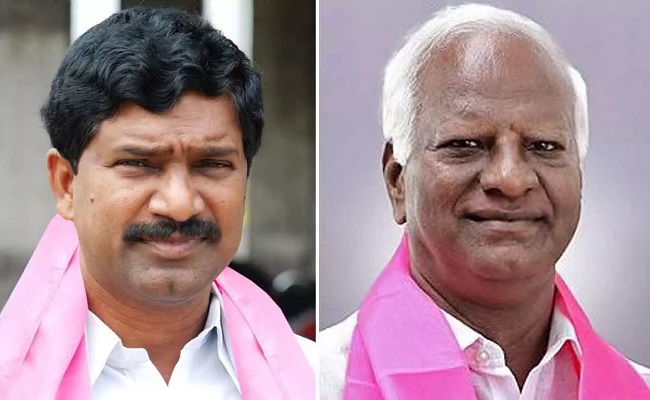 With just around a year left for the assembly elections in Telangana, a bitter of war of words has broken out in two former deputy chief ministers belonging to Telangana Rashtra Samithi in Warangal district over the contest in Station Ghanpur assembly constituency.
The constituency is presently represented by Tatikonda Rajaiah, who was one of the first two deputy chief ministers in Telangana state.
He is in a bitter fight with another former deputy chief minister Kadiam Srihari, who is presently an MLC, but represented the constituency several times in the past.
Both Srihari and Rajaiah, who hail from Dalit community, are now vying for contesting the next assembly elections from Station Ghanpur.
"This is Rajaiah's adda. Nobody can dare enter my constituency. It is the MLA who develops the constituency not an MLC," Rajaiah said.
He went on to allege that Srihari had ruined the constituency and was responsible for the death of several innocent youths in the name of Maoists.
"How can he expect to get the public support here?" the MLA asked.
Srihari reacted strongly to this allegation. Throwing a challenge to Rajaiah, the former minister said let an independent survey be conducted on who had the popular support.
"The people will decide whose adda Station Ghanpur is and who is the real people's leader. I will abide by whatever they say and whoever is given ticket by the party," he said, adding that he would take up Rajaiah's allegations to the notice of the high command.
Srihari went on to allege that Rajaiah's sexcapades were very much recorded.
"I can disclose them, but I am committed to the party's discipline and KCR's leadership. If I disclose the same, Rajaiah cannot go into the people at all," he said.
He demanded that Rajaiah should take back his words against him. "Otherwise, I will have to expose him in public and before the party," he said.