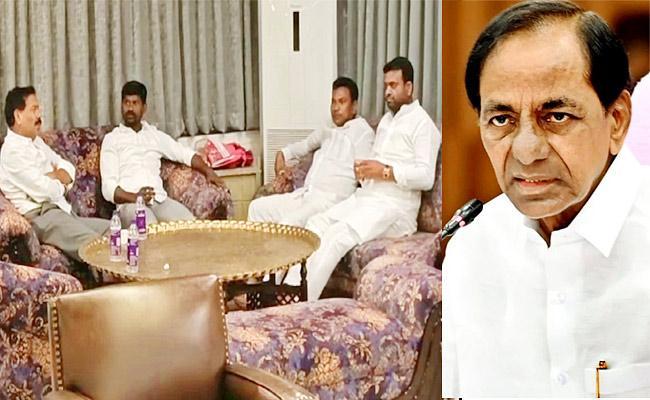 Remember the most infamous telephonic talk of Telugu Desam Party president and former Andhra Pradesh chief minister N Chandrababu Naidu: "Mana vaallu briefed me.." in the cash-for-vote scam involving present Telangana Congress chief A Revanth Reddy way back in 2015?
It was a cleverly-laid trap by Telangana Rashtra Samithi president and chief minister K Chandrasekhar Rao to book Naidu and hound him out of Hyderabad.
The telephonic talk between nominated MLA Elvis Stephenson with Naidu was recorded secretly and the audio tape clearly revealed that it was Naidu's voice.
On the other hand, Revanth Reddy offering Rs 50 lakh in cash to Stephenson was recorded in the video and he was caught red-handed by the Anti-Corruption Bureau officials in the most sensational sting operation.
Everything was telecast on the television channels, which became a big news those days. It is a different matter that the case was finally fizzled out and nothing could come out of it, as the authorities could not prove it was Naidu's voice.
The latest episode of the Bharatiya Janata Party allegedly trying to lure four TRS MLAs at a farmhouse on a couple of days ago also appeared to have been done on the same lines.
Following the instructions from KCR, the Cyberabad police laid all the traps for the mediators – they arranged secret cameras, audio recording material and even tapped their telephones, well before the three BJP mediators came to the farmhouse of Pilot Rohit Reddy, one of the four TRS MLAs being lured by the BJP.
Sources said the records that ran into a few hours provided ample evidence to KCR to fix top BJP bosses. The police are understood to have found that one of the conversation disclosed the voice of none other than Union home minister Amit Shah and they are trying to decipher the voice sample.
The conversations between Faridabad-based Swamy and the MLAs also disclosed the names of Shah and other big bosses of the BJP. All these recordings and their transcripts were submitted to the chief minister.
"In all probability, KCR will disclose these details to the media and expose the big bosses of the BJP," sources said.