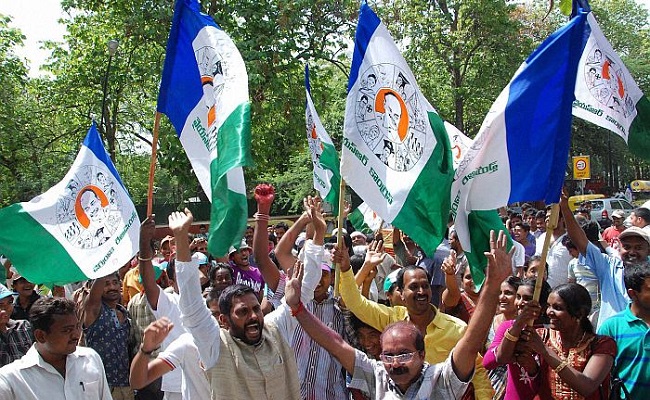 YSRCP president and CM Y S Jagan Mohan Reddy might be admitting senior TDP leaders into the YSRC with a view to wiping out the TDP base in their districts.
But their entry into the YSRC appears to be creating more troubles in the party than adding any additional benefit.
This has been the case in several districts, where the defecting TDP leaders are trying to gain control over the YSRC affairs, ignoring the already existing party loyalists.
In Gannavaram assembly constituency, the entry of TDP legislator Vallabhaneni Vamsi Srinivas into the YSRC has caused a lot of heartburn to the existing senior YSRC leaders like Dutta Ramachandra Rao, who is presently in-charge of the YSRC in the constituency and also Yarlagadda Venkat Rao who had lost in the last elections.
While Vamsi is trying to claim that being a local MLA, he is in-charge of the YSRC activities in Gannavaram and everybody should come to him.
An angered Dutta said there was no question of tolerating the new comers like Vamsi dominate the party in the constituency.
Similarly in Chirala assembly constituency in Prakasam district, local MLA Karanam Balarama Krishna Murthy who defected from the TDP to YSRC, is trying to dominate the party activities both in Chirala and Darsi, much to the chagrin of local YSRC leaders like Amanchi Krishna Mohan.
On YSR's death anniversary on September 2, both Karanam and Amanchi groups virtually entered into clashes.
Karanam's son Venkatesh said he had joined the YSRC to establish peace in Chirala and liberate people of the constituency from atrocities, threats and factionalism.
Amanchi group retorted saying the YSRC leaders and cadre would not tolerate the dominance of leaders like Karanam and Pothula Sunitha, who had entered the YSRC by prostrating before Jagan Mohan Reddy.
The Amanchi group lodged a complaint with the YSRC high command.
Similar clashes between defected TDP leaders and genuine YSRC leaders are being reported from different parts of the state.
It remains to be seen how Jagan handles these group rivalries.