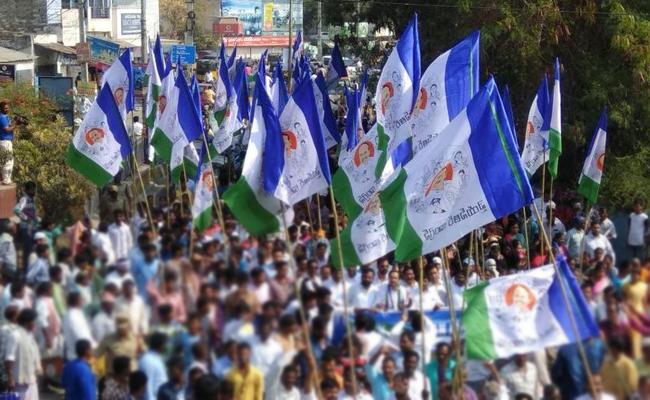 It is nothing but natural that the MLAs who defect from the opposition party to the ruling party face stiff resistance from the already existing ruling party leaders.
The new entrants feel suffocated unless they have the backing of the ruling party high command. Similar situations are being witnessed in the YSR Congress party.
The MLAs who defected from the Telugu Desam Party into the YSR Congress party are facing the heat from the already established YSRC leaders, who are not able to tolerate the dominance of the MLAs.
It happened in Gannavaram, where sitting MLA Vallabhaneni Vamsi defected from YSRC to the TDP. The defeated MLA Yarlagadda Venkat Rao, who was made in-charge of the constituency earlier, is not able to tolerate the hegemony of Vallabhaneni Vamsi.
But since Vamsi has the backing of party president Y S Jagan Mohan Reddy who said the former would contest the next elections, too, on YSRC ticket, Yarlagadda is not able to do anything. There are reports that he is likely to defect to the TDP.
In Chirala, too, the YSRC is facing internal wrangling between local YSRC leader Amanchi Krishna Mohan and sitting MLA Karanam Balaram, who defected from the TDP to YSRC. Both Karanam and Amanchi groups are virtually fighting on streets to show their dominance.
Very recently, both the groups indulged in fighting over several issues at the Chirala municipal council meeting. Both Karanam and Amanchi groups staged a protest over the hegemony of the others.
In Visakhpatnam (South) assembly constituency, sitting TDP MLA Vasupalli Ganesh, who defected to the YSRC last year, is running a feud with local YSRC leader Brahmin Corporation chairman Sitamraju Sudhakar, who is reportedly has the backing of YSRC general secretary and MP V Vijay Sai Reddy.
Ganesh has been expressing his dissatisfaction over the undue interference of Sai Reddy and his followers in the party activities in his constituency.
He told the reporters on Saturday that Jagan cannot become the chief minister again, if he depends on the Rajya Sabha members.
"If Jagan has to become the chief minister, he has to ensure that the MLAs have to win. Rajya Sabha members cannot make him the chief minister. I don't understand why Sai Reddy is not able to realise it," he said and requested that at least new party in-charge for north-Andhra districts Y V Subba Reddy should resolve the issues.