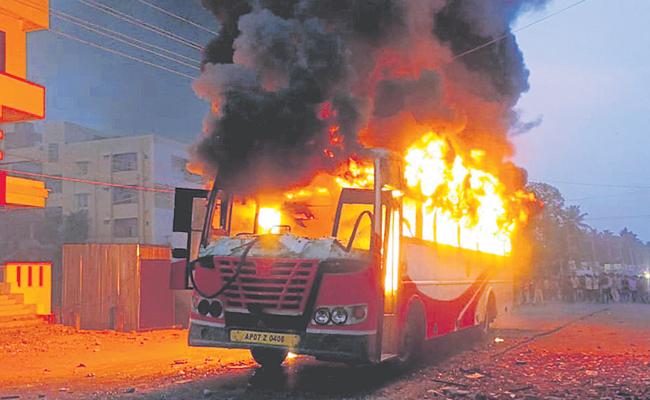 The sudden outburst of violence in Konaseema to the degree of burning the houses of a Minister and an MLA, breaking the heads of cops and burning of buses shocked the entire state.
When probed into the reason it is established that a disappointed caste group did this for naming the district against Ambedkar.
On the other hand YSRCP groups have another conclusion. Though this is a caste feud, they allege that some hands are involved in this that provoked the burning of houses and buses only to make it a national news.
If that happens, then the supposed investments that are in line from Davos meet may stop owing to the unrest. With an intention of projecting the state as a hotbed for unrest, this entire thing happened, as per the YSRCP groups.
Already a software company from France has come forward to invest in Andhra Pradesh. Tech Mahindra is also showing interest to transform Vizag into a High end technology hub. Another company from Mahindra Group is also showing interest to invest Rs 250 Cr on Ethanol plant.
Adani Group has been planning to invest Rs 60000 Cr in the green energy projects, which is not digested by the opposition parties in the state as per YSRCP.
So, according to YSRCP, this violence by the opposition parties is intended to prevent the new investments into the state.