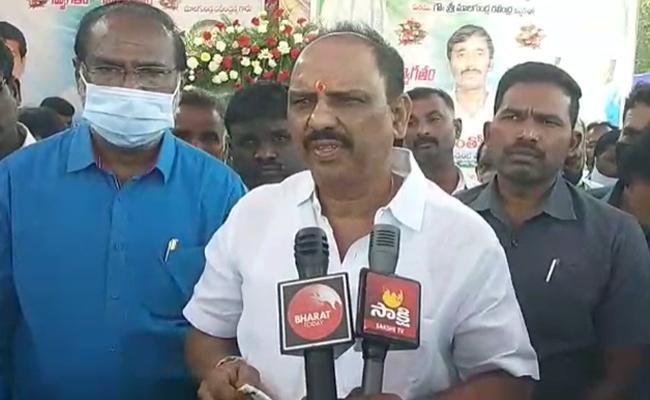 Senior Tollywood actor and Telugu Desam Party legislator from Hindupur assembly constituency Nandamuri Balakrishna, who is a rare visitor to his constituency, has suddenly become active now.
With the Jagan Mohan Reddy government converting Hindupur parliamentary constituency into a district and naming it as Sri Satya Sai district after Bhagwan Satya Sai Baba, Balakrishna has started focussing on the constituency.
However, Jagan's decision to name Puttaparthy as the district headquarters instead of Hindupur town has triggered an uproar in the constituency. And Balakrishna plunged into action to cash in on the unrest among the people.
He made a request to the Jagan government to rethink on the district headquarters, as Hindupur town has all the qualities of being a district headquarters, compared to Puttaparthi, which is a remote place.
On Friday, Balakrishna led a big rally in Hindupur town demanding that it be made the district headquarters. He also took up a Mouna Deeksha (silent protest) at Ambedkar centre, where he concluded the rally.
He announced that he would resign from his assembly membership and launch an agitation if Hindupur is not declared a district headquarters.
He also demanded that the YSRC MLAs from Hindupur parliament segment also should resign to protest the government's decision.
Reacting to Balakrishna's challenge, state minister Shankar Narayana said the people of Hindupur were also eagerly waiting for Balakrishna's resignation.
"He has not done anything for the constituency in the last seven years. The people are vexed with him and are planning to get rid of him," he said.
Shankar Narayana said Balakrishna would remember Hindupur and its people only when he had no shooting schedule.
"It is ridiculous that he is now fighting for Hindupur district headquarters. In fact, I, too, want Penukonda to be the district headquarters, but Jagan decided that a spiritual centre like Puttaparthi would attract a lot of development if it is a district headquarters," he said.
The minister asked why TDP president N Chandrababu Naidu, who had been the chief minister for 14 years, had never thought of naming a district after N T Rama Rao.
"He should be thankful to Jagan for naming Vijayawada district after NTR," he said.