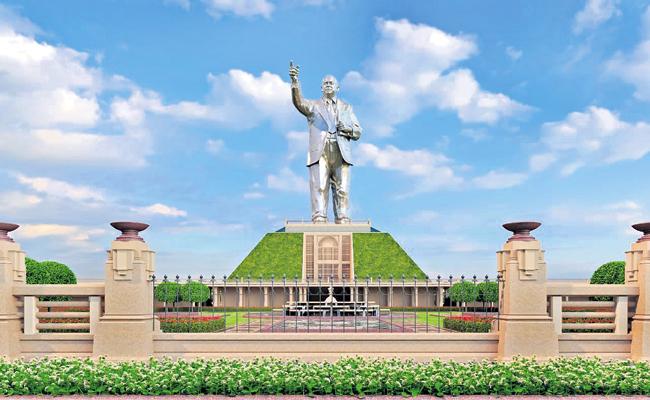 The Y S Jagan Mohan Reddy government in Andhra Pradesh and the K Chandrasekhar Rao government in Telangana, which have been competing with each other in the implementation welfare schemes, are now engaged in yet another interesting competition.
It is on installation of the tallest statue of B R Ambedkar, the architect of Indian constitution in their respective states.
While the Jagan government is planning to install the statue of Ambedkar in the heart of Vijayawada city, the KCR government has proposed to do the same in Hyderabad on the banks of Hussainsagar lake.
On Tuesday, Telangana industries minister K T Rama Rao announced in the state assembly that the state government was installing Ambedkar statue of 125 ft height at NTR Marg on the banks of Hussainsagar, as a tribute to the father of the Constitution of India.
Moving a resolution in the assembly requesting the Centre to name new Parliament building in New Delhi after Dr B R Ambedkar, KTR said the state government would pay a fitting tribute to him by installing his statue on the banks of Hussainsagar, works of which are going on in full swing.
On the other hand, a delegation of ministers and officials from Andhra Pradesh government also left for New Delhi on Tuesday to inspect the Ambedkar statue in New Delhi and replicate the same in Vijayawada.
The delegation headed by senior minister Botsa Satyanarayana would study the Delhi model and order a similar statue to be installed at Swaraj Maidan in Vijayawada. Interestingly, this statue, too, would have the same height as that in Hyderabad – 125 ft.
Jagan had already given a promise to install the statue and arrangements are being made to that effect. A committee by the name Ambedkar Statue Construction Committee headed by social welfare minister Meruga Nagarjuna is taking measures for the statue installation.
It remains to be seen which state will come up with statue installation first.