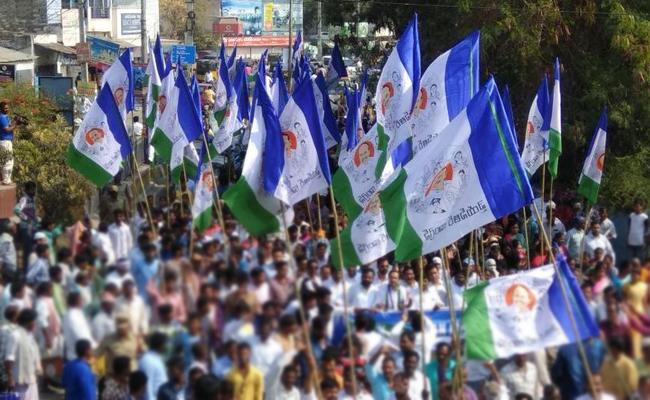 The ruling YSR Congress party continues to hold sway over the seven assembly constituencies reserved for Scheduled Tribes in Andhra Pradesh, a latest tracker poll conducted by a Hyderabad-based political research outfit – People's Pulse – has revealed.
According to this tracker poll study, if elections are held immediately, the YSR Congress would sail through in six seats reserved for STs, while the Telugu Desam Party would win just one constituency.
The study revealed that the YSR Congress would get 44.25 percent of the vote while the TDP would get 39.39 percent vote share in these constituencies. The Jana Sena would get 8.19 percent of the vote, but no seat (Margin of error plus or minus 3 percent).
In the event the broad expectation now that there might be some understanding between the TDP and the Jana Sena becomes a reality, then the contests in all the seven reserved seats would be pretty keen.
The YSR Congress, presently, is comfortably poised in Rampachodavaram, Paderu, Araku, Salur, Palakonda and Kurupam. The TDP is firmly set in Polavaram.
The YSRC has a lead over its nearest rival Party TDP by 6-8 percent vote share in Rampachodavaram, Paderu, Araku, Salur.
In Palakonda, the difference of vote share between YSRC and TDP is 1.31 percent only. Jana Sena Party would will get a vote share of 13.97 percent in Rampachodavaram, 9.23 percent in Araku, 9.09 percent in Kurupam, 7.27 percent in Polavaram, 7.29 in Paderu, 5.18 in Salur, 5.3 percent in Palakonda.
This indicates Jana Sena will play a key role in 2024 assembly elections. An interesting detail of this tracker poll is that the TDP is adding nearly 9.6 percent to its vote share of 2019 and yet winning only one of the seven ST seats, Polavaram, with a vote share difference of just 1.93 percent.
On the other hand, the YSR Congress is losing nearly 4.94 percent of its vote share.
In 2014 when the TDP came to power after the bifurcation of the state, they won only one seat i.e, Polavaram. YSRCP won the remaining six seats reserved for Schedule Tribes.
In 2009 in an integrated state, the TDP won only Araku, while the Congress won the remaining six. This goes on to show that the TDP, historically, has performed poorly in ST reserved seats.
The study revealed that the SC-ST communities are supporting the YSR Congress, while the BC and forward communities are supporting the TDP. Around 16 percent forward communities supporting Jana Sena.
The YSR Congress draws its support from 36-60 years age group and the TDP is strong in the 18-35 years age group. Around 14 percent youth between 18-35 years supporting Jana Sena Party, the survey said.