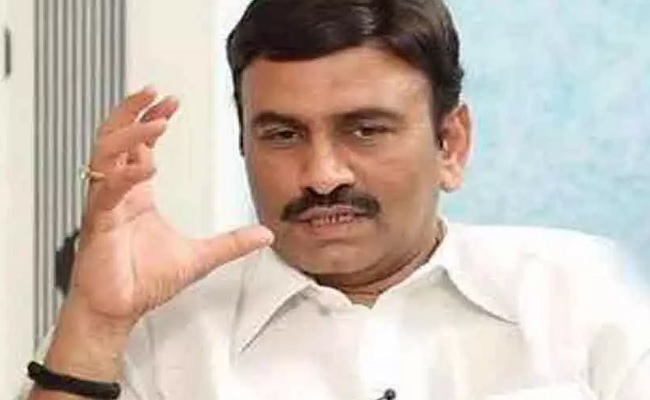 "Yuvaja Shramika Rythu Congress party" MP from Narasapuram Kanumuru Raghurama Krishnam Raju, who has entered into direct confrontation with party president and Andhra Pradesh chief minister Y S Jagan Mohan Reddy, was all praise for the latter's father and former chief minister Y S Rajasekhar Reddy.
Raju on Tuesday recalled his long association with YSR on the occasion of the latter's birth anniversary on Wednesday, apparently to take an indirect dig at Jagan indicating that there is a huge difference between the father and the son with regard to maintaining relations with the party leaders.
The Narasapuram MP said he had been closely associated with YSR since 1992.
"When YSR went into depression after losing the elections in 1999, I strongly stood by him and gave him moral support, stating that he had not lost the election, but the TDP had won because of Vajpayee effect," he said.
He said he had given confidence to YSR that the latter would become the chief minister in 2004.
"When Sonia Gandhi declared him as the CM, he was discussing with me about the swearing-in ceremony. I requested him that it would be better if the swearing-in was done on May 14. He asked me what the speciality of the date was and I told him that it was my birthday. And YSR was happy and asked KVP to fix May 14 as the date for swearing-in as the chief minister," Raju recalled.
He said had YSR thought he would have fixed any other date.
"But he gave a lot of importance to friendship with me and took oath as CM on my birthday. That is how one should treat a leader," the MP said.
Raju also said despite being a busy CM, YSR was always available to the MLAs and MPs always.
"He used to respect even the opposition leaders. After becoming the chief minister for a second time in 2009, I went to his residence. He felt bad on seeing a cartoon against Chandrababu Naidu. He told me Naidu was the chief minister of the state for nine years and he should not have been insulted like that. That is the kind of regards he had for his old friend," he said.
CLICK HERE!! For the In Depth Updates on all the OTT Content