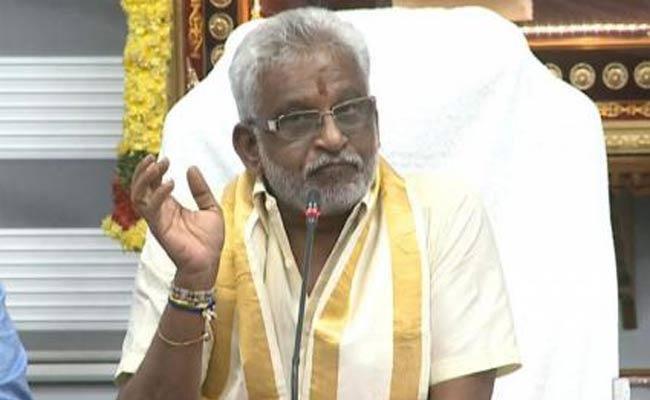 Y V Subba Reddy is the Chairman of the TTD Executive Council. He has been bringing several changes after assuming power and he is traveling in a positive direction.
He has taken up many initiatives like changes in Darshans, keeping the funds in good banks, distributing Kalyanam Laddus to everybody, etc.
At this juncture, two controversies gripped TTD. The first one is selling Venkateswara Swami's Prasadam laddus in the neighboring states Karnataka and Tamil Nadu.
The second is the sale of some TTD lands that were offered to the Lord by devotees. Pro-TDP media immediately jumped into action and projecting these things as if some great sins happened.
What is all this? To get clarification on these things Greatandhra.com has interviewed Mr. YV Subba Reddy.
Your decisions have been almost non-controversial in the last 10 months. Whey they are landing into controversies now?
What is the big secret in this? It is nothing but mudslinging on the welfare-oriented Jagan's rule. They are trying to provocate a religion by projecting that Jagan is from other religion.
Is there an angle of distancing BJP from YCP in this controversy?
Why not? Hatching this type of conspiracies is a habit for TDP, right?
Ok. Can you tell us about the lands sale issue?
I will tell you about the sale of lands later. Listen to its backdrop first. The resolution had been passed when BJP MLA was Endowments Minister and BJP leaders were members on TTD Board in the past. This resolution is not at all a new one. They have passed the resolution that they have to identify some lands following certain set of guidelines, sell them, and deposit the money to the Lord Venkateswara's treasury.
Now, we have taken up the work of implementation of the resolution. That's it. This is not a new thing. It has been done several times in the past. We are in the process of preparing a list.
What is the need of selling the lands offered by devotees? Moreover, it doesn't fetch big money.
The point here is not about money. Devotees offer small pieces of land in many different places out of their devotion. For example, there will be a land of 2 cents or 10 cents in a remote village of Tamil Nadu.
More than the income TTD gets from that land, the process of maintaining it, keeping track of it is a tedious task. If we don't keep track, it will be illegally occupied by somebody.
Do you want us to just leave it or save God's property by selling it? Fine, we'll take the decision back. You tell us what to do? I mean I'm asking this question to the people who are criticizing the selling process. You tell us what to do.
Don't you have the responsibility to give clarification when some people are deliberately attempting to hurt the sentiments of devotees, and provocating them against the government?
What can we tell the people who are deliberately circulating the fake information? Even if we give clarification, they will publish it in a small size in some corner. By the way, we're preparing a clarification with comprehensive details.
What about the sale of laddus?
That is also nothing but the propagation of blatant lies. There are tonnes of general items that have been stored for the preparation of laddus. They will get spoiled. The officials asked me what to do with those items.
At the same time, many devotees have written emails and letters to us. They were asking us to send them Prasadam by conducting online Pujas as they are unable to have a darshan of Lord Venkateswara.
But online pujas, picturizing videos are not possible because it is against the Agama Sastra. So, we thought about it and decided to send laddus to the devotees free of cost. But we can't distribute all those laddus in Tirupati alone.
TTD has information centers in all the district headquarters. But we have to spend money on the transportation of laddus. So, I asked them to charge only for the transportation of laddus and give the laddus free of cost.
We have decided to give the laddus to the devotees just by collecting the transportation cost of Rs.25 even during the corona time. The cost of items used in the preparation of laddu is not included.
What about the criticism of calling TTD Sweet Stall?
We treat Lord's prasad as the form of god. No one will call it a sweet. The people who are criticizing are comparing the holy prasadam as sweet? Who is hurting the sentiments of the devotees?
Fine. Where is the need for bulk supply?
Several charitable institutions are supplying essential items to people in different ways in corona time. We received many requests from them that if we give them laddus in bulk quantity, they will distribute them to people.
But there will be a chance for misuse. Right?
Maybe. That's the reason why we have not started the bulk supply. I asked the officials to prepare guidelines. We have to thoroughly scrutinize on who is requesting us, why are they asking us. We can make a decision later only after scrutiny.
For how many days TTD will continue this process, will you continue it after corona?
Why would we do it? The supply of laddus prepared in Tirumala is less than the demand. We are supplying the laddus outside only during corona time considering the sentiments of the devotees, utilization of general items, etc.
Let us talk about politics again. What is the political angle in these things?
Everybody knows it. Provocating Hindutva, creating a rift between YCP and BJP, creating hurdles for the Jagan Mohan Reddy's rule which is otherwise functioning smoothly. They tried to do it in Tirupati in the past but their attempts failed. It's the same now.