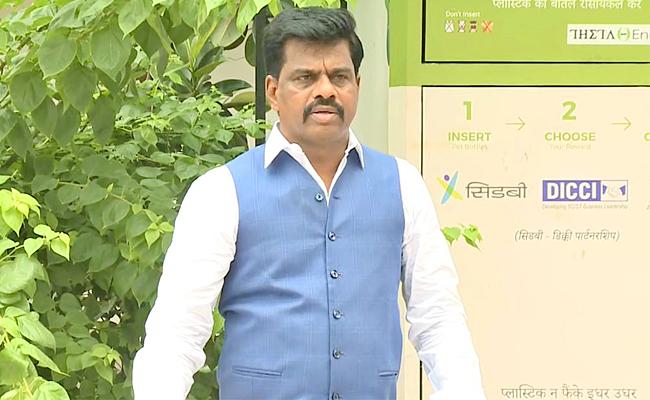 The ugly episode of YSR Congress party MP from Hindupur Gorantla Madhav making obscene video call to an unknown woman has no doubt landed the party in the most embarrassing situation.
According to sources close to the party, chief minister Y S Jagan Mohan Reddy has taken serious note of the development, after getting preliminary report that the video footage was more or less genuine.
But he also wants to know whether the political rivals of the party had trapped the MP making the woman in question as scape goat.
So far, nobody knows who the woman was and why she had leaked the video footage. So, something is fishy about the whole episode, sources said.
That is why Jagan ordered a detailed investigation into the murky episode both by the Cybercrime police and also his own party sources.
Senior leader and advisor Sajjala Ramakrishna Reddy already indicated that stern action would be taken, if the video turned out to be genuine.
The Telugu Desam Party has made the best use of the video to target the YSRC and its leaders have been issuing statements against Madhav for the last two days.
But what is surprising is the eagerness being displayed by the pro-TDP media in getting Madhav sacked from the party.
For the last two days, these yellow media channels have been conducting debates on Madhav issue as if there is no other burning issue on the earth to discuss. They are questioning why Jagan is hesitating to take action against the MP, despite having concrete evidence.
The yellow media is wondering whether the chief minister was worried about the loss of support of Kuruba community to which Madhav belongs, if the latter is suspended.
While a section of the party feels the image of the party will be enhanced if Madhav is suspended, another section feels there will be more damage than good to the party politically.
According to the campaign by this media, Madhav is suspecting the role of his rivals within the YSRC in leaking the video to the media. So, he has taken out the BC card and on Sunday, he called for a meeting of Kuruba community leaders in Hindupur to come to his rescue.
"Maybe, that is the reason why Jagan is hesitating to take action. He thinks by remaining silent on the issue in the name of inquiry, the issue will gradually die down," the yellow media suspects.