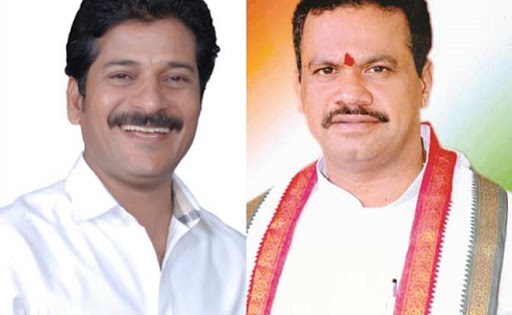 A day after Munugode MLA Komatireddy Rajagopal Reddy tendered his resignation from the Congress party, his elder brother and Bhongir MP Komatireddy Venkat Reddy also hinted at following his brother's route.
Venkat Reddy on Friday declared that he won't see the face of Telangana Pradesh Congress Committee president A Revanth Reddy again and won't go to Gandhi Bhavan in the near future.
He was terribly upset with Revanth for admitting Cheruku Sudhakar into the Congress party.
Sudhakar, a prominent leader from Nalgonda, merged his Telangana Inti Party with the Congress on Friday at a function in Gandhi Bhavan.
Sudhakar, who had played active role in Telangana movement and became politburo member of the Telangana Rsshtra Samithi.
He campaigned against Komatireddy Venkat Reddy in the last parliament elections, which is why the MP doesn't like Sudhakar's entry into the Congress.
"How can Revanth admit a person who tried to defeat me in the elections? He has committed a big blunder. It is obvious that Revanth Reddy wants to create troubles for me in the next elections," Venkat Reddy said.
Stating that he won't see Revanth Reddy's face once again, the Bhongir MP said he would go to Munugode only after the parliament sessions.
"I don't want to talk about Revanth Reddy hereafter and I don't attach any importance to Munugode by-elections," he said.
Interestingly, Revanth said his intention was not to embarrass Venkat Reddy.
"My criticism was only against Rajagopal Reddy not his brother. Venkat Reddy is part of the Congress family. My comments against Rajagopal have nothing to with his brother," he said.