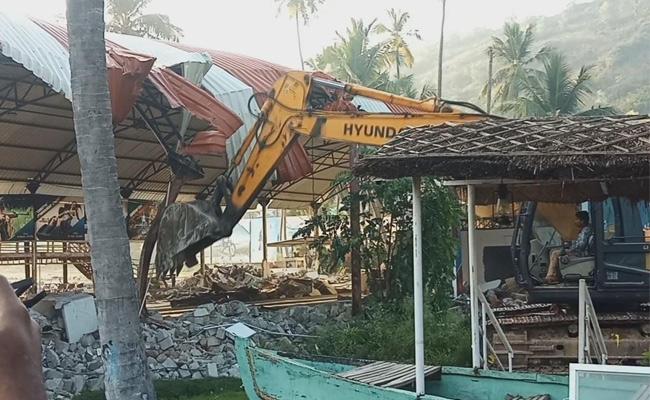 Former minister and senior Telugu Desam Party legislator from Visakhapatnam (north) Ganta Srinivasa Rao is generally considered to be an aggressive politician. He doesn't keep quite when he is targeted by his rivals.
But that used to be the case only when he is in the ruling party. Till last year, Ganta had always been associated with the ruling party, whether it was the Congress or the TDP.
He has gone into silent mode, ever since the TDP lost power to YSR Congress party in 2019 elections.
Ganta made a desperate attempt to join the YSR Congress party but could not get the green signal from the party high command, thanks to several forces which have prevented his entry. It is learnt he has not given up his hope.
However, there have been several instances of Ganta receiving severe setback in the district.
A few months ago, his close follower Nalanda Kishore was arrested by the Crime Investigation Department sleuths for alleged derogatory posting in the social media against YSR Congress party general secretary V Vijay Sai Reddy and tourism minister Avanti Srinivas.
Kishore was later taken to Kurnool from Visakhapatnam by road where he was interrogated and later sent to judicial remand.
A few days after his release on bail, Kishore died of Covid-19. And Ganta could not utter a word over his follower's death as he feared any comment might hamper his entry into YSRC.
Recently, the Indian Bank authorities have put up Ganta's properties for auction, as he had defaulted on loan repayment to the extent of Rs 400 crore. There were allegations that the bank authorities were under pressure from YSRC. Yet, Ganta did not open up his mouth.
Very recently, the Greater Visakhapatnam Municipal Corporation authorities demolished some of the properties in Ganta's lands at Anandapuram stating that they were illegal constructions. Yet, the former minister could not issue any statement.
On Saturday, the GVMC authorities began demolition of a Go-karting club belonging to realtor Kasi Vishwanath, supposed to be another close follower of Ganta, at Mangamaripeta in Bheemili road in Visakhapatnam.
Though Vishwanath argued that it was a private land and he had taken it on lease for 10 years, the authorities said it was the government land. Even then, there has not been any statement from Ganta till now.
May be, Ganta will break his silence at least now. Otherwise, he will lose his credibility completely, say his own followers!