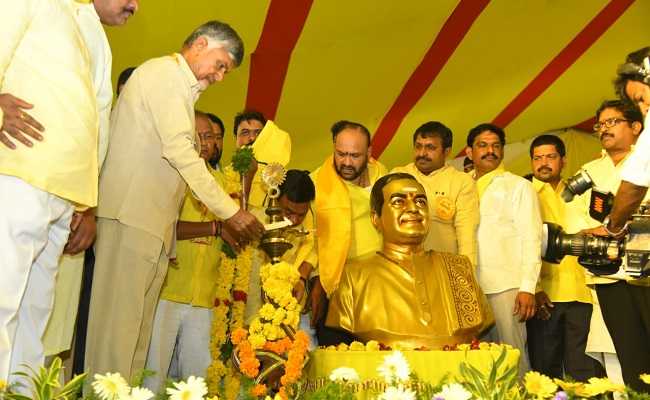 Mahanadu, the two-day biennial political conclave of Telugu Desam Party being held at Ongole, will conclude on Saturday evening, coinciding with the commencement of birth centenary celebrations of TDP founder-president and former chief minister N T Rama Rao.
It has been 26 years since NTR died of heart attack and it was a known fact that one of the main reasons for the untimely demise of the legendary actor was the backstabbing done by his son-in-law and present TDP president N Chandrababu Naidu.
In these two and a half decades, Naidu invoked NTR's name several times to gain political mileage and it is an undeniable fact that the party is still surviving on the image of NTR. During this period, Naidu had also played a major role in the national politics.
Yet, Naidu has not made any attempt to lobby for securing Bharat Ratna, the highest civilian award of the country, to NTR.
It was only because of efforts of NTR's daughter Daggubati Purandeshwari that his portrait could adorn the wall of Parliament annexe.
Even back home, Naidu has not even thought of renaming a district in the name of NTR when he was in power for 14 years after NTR's death.
He did not even get that idea when Kadapa district was named after Y S Rajasekhar Reddy, which he had continued between 2014 and 2019.
Now, Naidu's bitter enemy and present chief minister Y S Jagan Mohan Reddy chose to name newly-formed Vijayawada as NTR district, as a tribute to the legendary actor in his centenary year. But the TDP chief did not utter a word appreciating the gesture.
On Saturday, when the Telugu states are celebrating the commencement of NTR birth centenary year and the TDP is holding Mahanadu, where Naidu showered praises on his father-in-law, there was no word on NTR district.
"It should have been dignified and appropriate had the TDP adopted a resolution thanking the state government, if not Jagan personally, for its gesture in naming Vijayawada as NTR district," an analyst observed.
If he does that, how can he be called Chandrababu Naidu? He knows that if he speaks one word in support of the government, Jagan will get the mileage!