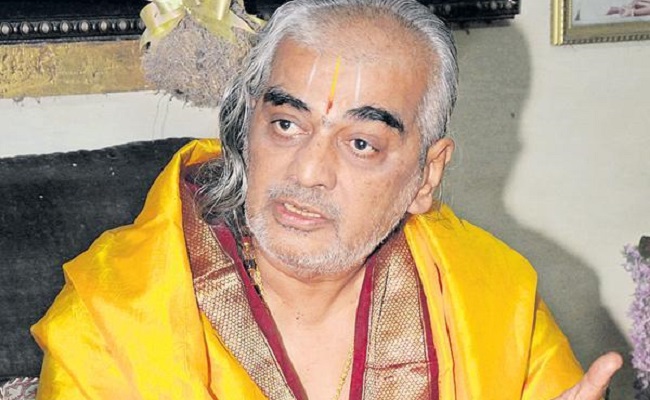 Honorary head priest of Lord Venkateshwara temple in Tirumala Dr A V Ramana Deekshitulu is angry again.
Known for his pungent comments against the Tirumala Tirupati Devasthanam, which manages the Tirumala temple affairs regularly, Deekshitulu once again spit venom at the TTD saying there is rampant corruption in the TTD again.
"Tirumala temple had 54 traditional hereditary families of different castes - yadavas, mudpot makers, bamboo basket makers, rangolis, gardeners, weavers, carpenters, goldsmiths, vahanam-bearers. Wiped out with 30/87 act. Only rampant corruption prevails now," Deekshitulu tweeted on Thursday.
The reason for his strong comments against the TTD is not immediately known, but apparently, several hereditary families doing service in the TTD are understood to be removed.
The Act of 30/87, which Deekshitulu referred to, is nothing but AP Charitable and Hindu Religious Institutions and Endowments Act, has a comprehensive chapter on the powers and activities of the TTD, among a large number of issues dealing with temples.
"Maybe, under this Act, the TTD has removed these traditional families belonging to various castes," a source said.
In September, too, Deekshitulu posted a tweet alleging that anti-Brahmin forces in TTD are demolishing the archaka and temple systems on Tirumala.
"@ysjagan. All archakas desperately waited for ur announcement on implementation of one-man committee report. Badly disappointed. Necessary to do it before archaka and temple systems are demolished by anti-brahmin forces in TTD," he tweeted.
However, within a couple of hours, Deekshitulu deleted the tweet from his Twitter handle, for reasons known only to him. Apparently, the tweet has angered the chief minister and his advisors immediately brought pressure on Deekshitulu to remove the tweet.
Deekshitulu, who lost his post during the Telugu Desam Party regime, was reappointed as head priest of Lord Venkateshwara Swamy temple in Tirumala in April 2021, but only as an honourary priest. This has been the cause of his disgruntlement since then.