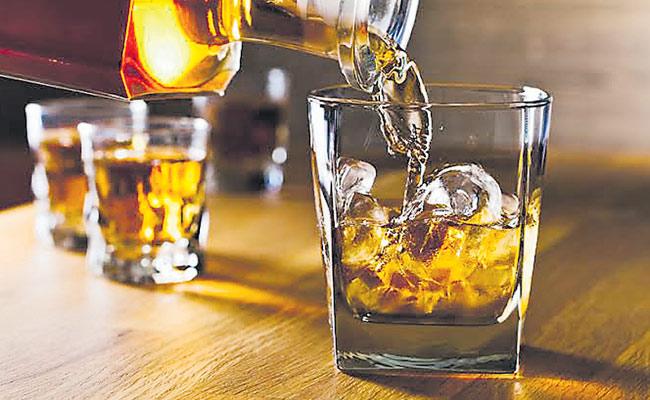 After watching thousands of people standing in queues extending for a couple of kilometres, giving a go-bye to social distancing, before the liquor shops in Andhra Pradesh, one wonders why chief minister Y S Jagan Mohan Reddy was so keen on implementing prohibition.
The intention of the chief minister might be genuine – to wean away people from the social evil of alcohol consumption. He might have taken the decision to introduce phase-wise prohibition in the state after watching the woes of womenfolk during his marathon padayatra.
That is why after coming to power, Jagan reduced the number of liquor shops and entrusted the retail sale to the excise department itself.
He also brought down the number of bars and pubs and announced that every year 20 per cent of the wine shops would be phased out.
But unfortunately, the chief minister has not been able to prevent people from consuming liquor. While liquor sales continue to be the same, the arrack which was banned during early '90s, was back in the villages with unscrupulous elements indulging in illicit brewing of arrack.
At least during the ongoing lockdown period on account of coronavirus, one had thought people would give up liquor consumption as the shops are closed. But it did not happen. Corrupt leaders and officials indulging in sale of liquor in black to make a quick buck.
Apparently realising that the state was losing its revenue heavily, Jagan allowed reopening of liquor shops as part of relaxation of lockdown and gave permission to 14 distilleries to manufacture liquor.
But what happened on the streets was there for everyone to see. People jostled with one another to buy liquor and social distancing norms were completely violated.
Ironically, the government thought liquor consumption would be discouraged if prices are increased. So, on the first day, the prices of various liquor brands were increased by 25 per cent. Yet, there was mad rush for alcohol.
In spite of that, the Jagan government on Tuesday increased the prices by another 50 per cent. But it is unlikely to bring down the demand for liquor.
The bottom line of the story is that alcoholism cannot be brought down by force or by increasing the prices. Whatever orders Jagan might give or whatever philosophy his ministers may preach, people will continue to consume liquor.
The government will be needlessly losing huge revenue through this partial prohibition. It is better the government gives up its hypocrisy and allow sale of liquor liberally, so that it will at least get money to run the welfare schemes.
As long as people are addicted to liquor, Jagan cannot implement his idealistic thought!