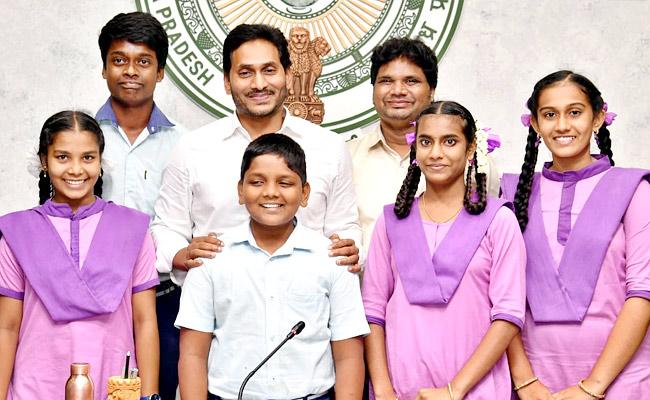 Remember what TDP chief Chandrababu Naidu said about students studying English medium? He said those children who study English medium would become waste fellows.
He made this comment during his recent visit to Srikakulam district as part of his party programme.
He interacted with the students and teachers there and blamed the state government for introducing English medium in the government schools.
But, today, the students of Bendapudi ZP high schools in Thondangi mandal of East Godavari district met chief minister Y S Jagan Mohan Reddy at his camp office.
They interacted with the Chief Minister and expressed their views in English with fluency.
They said programmes like Nadu Nedu in Government schools, introduction of English as medium of instruction were really great and the Chief Minister is their ideal for implementing such programmes.
The students namely Myra, Karishma, Anudeep explained as to how they would like become IAS officers and that they learning English has benefitted and given them a motivational boost to achieve their goals.
The student's mentor and teacher, Prasad, trained his students in English for the past few months just by making them watch videos on the internet and correcting their grammar and pronunciation.
Now, the students are very confident and interacted with officials and the Chief Minister.
"There is an influence of native language and hence the accent and pronunciation is different. Once I started the Speakers club, many students now have started to pick up the accent and prefer speaking in English than their mother tongue," Prasad, said.