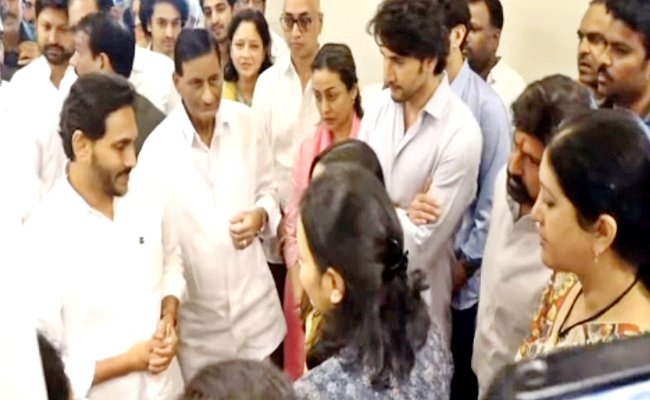 There have hardly been any occasions with Telugu Desam Party leaders wishing YSR Congress party president and Andhra Pradesh chief minister Y S Jagan Mohan Reddy.
Except in the state assembly, the TDP leaders won't see Jagan face to face at any programme. In fact, wherever Jagan goes, the local TDP leaders, including the MLAs, are either taken into preventive custody or kept under house arrest.
Particularly, there are no occasion when TDP president N Chandrababu Naidu or his son Nara Lokesh or his brother-in-law and Hindupur MLA has ever come across Jagan face to face.
At a recent meeting in New Delhi, which Naidu and Jagan happened to attend, but they did not look at each other, let alone greeting each other.
But on Wednesday, Balakrishna had to face such a situation. It was at Padmalaya Studios in Hyderabad, when the senior actor came there to pay floral tributes to superstar Krishna who passed away on Tuesday.
As Balakrishna came to the studios, rebel YSR Congress party MP from Narasapuram Kanumuru Raghu Ramakrishna Raju also arrived at the same time. Both of them entered the hall, paid tributes to late Krishna and consoled Mahesh Babu and other family members.
While Balakrishna was coming out and about to get into his vehicle after speaking to the waiting media there recalling his association with Krishna, he noticed Jagan Mohan Reddy arriving there.
Instead of ignoring the Andhra chief minister, he entered the hall again and waited for the former. As Jagan came there, Balakrishna greeted Jagan with folded hands and Jagan reciprocated the gesture. It was indeed a rare scene.
The actor-MLA stood there patiently all the while, when Jagan was speaking to Mahesh Babu and expressing his grief to the family members. While the chief minister was leaving, Balakrishna greeted him once again.
It's good that at least Balakrishna had displayed the courtesy and respected the chief minister of his state. Interestingly, Raghu Ramakrishnam Raju quietly left the place even before Jagan entered the hall and noticed him!