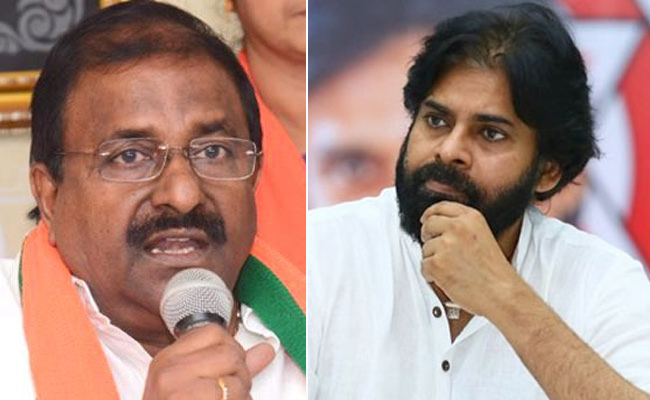 BJP AP president Somu Veerraju has a hard hitting advice to his ally and Jana Sena chief Pawan Kalyan. The advice was not friendly though Pawan Kalyan is an ally to the BJP.
Veerraju spoke at length at the party's public meeting in Vijayawada on Tuesday.
He referred to the Central government's proposal of disinvestment in Visakhapatnam Steel Plant.
Veerraju said that BJP's ally Jana Sena had held a protest against disinvestment in Visakha Steel Plant.
He said that the successive governments in Andhra Pradesh have privatised sugar factories and dairies from the cooperative sector.
Veerraju wanted Pawan Kalyan to hold protest against privatisation of sugar factories and dairies.
He criticised Chandrababu Naidu for privatising cooperative dairies and opening a private dairy for the family.
Veerraju also promised to construct capital in Amaravati in three years if voted to power.
He appealed to the Amaravati farmers to support BJP in the next election if they wanted capital in Amaravati.
He blamed Chandrababu Naidu for not developing anything in Amaravati. He also found fault with Jagan Mohan Reddy for disturbing Amaravati and exploiting lands in Visakhapatnam in the name of three capitals.