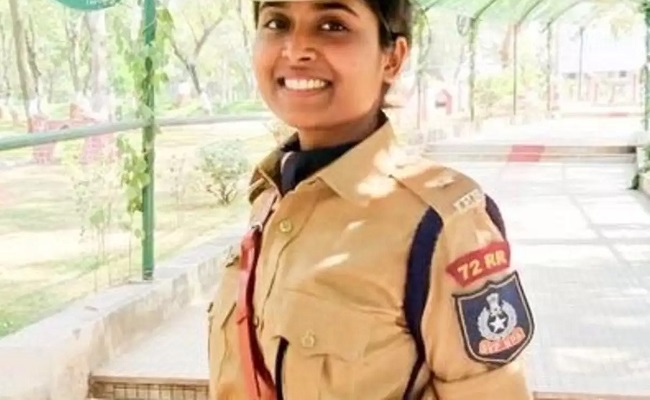 An Indian Administrative Service (IAS) officer hailing from Telangana, who was posted in Odisha cadre, has finally ended up in Andhra Pradesh to work in the Y S Jagan Mohan Reddy government.
Pedditi Dhatri Reddy, who belongs to Gundlabavi village of Chouttuppal mandal in Yadadri Bhongir district, got selected to the IAS in 2020 and was allotted Odisha cadre.
Recently, Dhatri Reddy opted for Andhra Pradesh cadre on the ground that she got married to an IPS officer of Andhra cadre Kommi Pratap Shiva Kishore of 2019 batch.
She placed a request with the Centre as well as the state governments of Odisha and Andhra Pradesh.
Following an agreement between both the state governments, the Union ministry of personnel and training granted her request and transferred her to Andhra cadre on Thursday.
"Welcome home @DhatriReddyP. Congratulations on your transfer to Andhra Pradesh cadre," her husband tweeted on Friday.
Reacting to his tweet, Dhatri Reddy said: "Now officially borne to Andhra Pradesh Cadre. Forever indebted to Odisha and the numerous seniors there who stood by side as mentors and my support system."
In fact, Dhatri Reddy had been a classmate of Shiva Kishore in Indian Institute of Technology, Kharagpur. Both of them got selected to the Indian Police Service in 2019.
While Shiva Kishore, who hails from Atmakur in Nellore district, preferred to remain an IPS officer of Andhra cadre, Dhatri wrote the Civil Services again and got 46th rank in 2020. She was selected to the IAS, but in Odisha cadre.
Before joining the Civil Services, she worked as an investment banker at Deutsche Bank. She got married to Shiva Kishore in December 2021. In fact, Shiv Kishore is close to Mekapati family, who also hails from Atmakur.
He studied in Jawahar Navodaya Vidyalayam at Krishnapuram, which was set up due to efforts of Mekapati Rajamohan Reddy.
The couple got married in the presence of Rajamohan Reddy and his son late Mekapati Goutham Reddy.