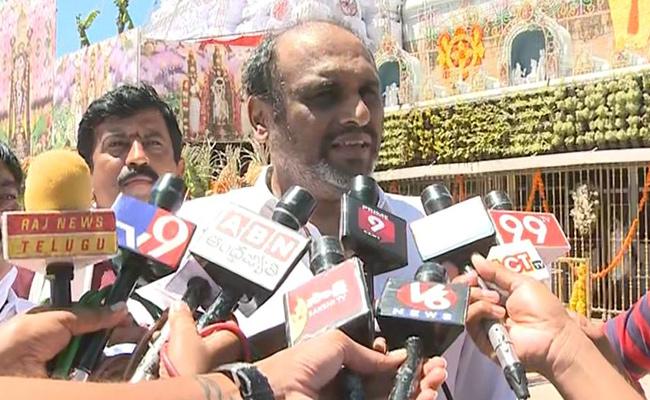 The beleaguered TDP in Andhra Pradesh received yet another shock when its senior leader from Chittoor D K Srinivasulu Naidu is all set to defect to the ruling YSRCP.
Srinivasulu Naidu is the son of former Tirumala Tirupati Devasthanams chairman late D K Adikesavulu Naidu, a prominent liquor baron from Chittoor.
Srinivasulu is also the managing director of Karnataka Beverages and Distilleries in Bengaluru.
Adikesavulu Naidu's wife D K Satya Prabha was a former TDP MLA from Chittoor and had unsuccessfully contested against YSR Congress party leader P Mithun Reddy from Rajampet in Kadapa district in 2019 elections.
In fact, Srinivasulu himself was tipped to be the TDP candidate in LS polls, but he dropped out in favour of his mother.
On Thursday, Srinivasulu Naidu met YSRC president and chief minister Y S Jagan Mohan Reddy at the Padmavathi Guest House in Tirumala. He was accompanied by Mithun Reddy, who introduced him to Jagan.
This has led to the talk that Srinivasulu would soon join the YSRC. However, the TDP leader refused to comment on the same when media persons asked him after his meeting with Jagan.
"I will speak about my future political plans later," he said.
Srinivasulu said he had discussed the "Ananda Nilayam-Ananta Swarna Mayam" (gold plating of Tirumala temple) project with Jagan.
"It was the dream project of my father. I requested the chief minister to revive the project and he showed positive response," the TDP leader said.
Srinivasulu Naidu's name also cropped up in the cash-for-vote scandal involving TDP president N Chandrababu Naidu and present Telangana Congress working president A Revanth Reddy in 2015. The ACB authorities had grilled him in 2015 as well as in 2019.
There were allegations that it was Srinivasulu who had arranged Rs 50 lakh Revanth Reddy for purchasing the vote of then nominated MLA Stevenson in the MLC elections.
Srinivasulu refuted the allegations, but admitted that Revanth Reddy was his best friend.