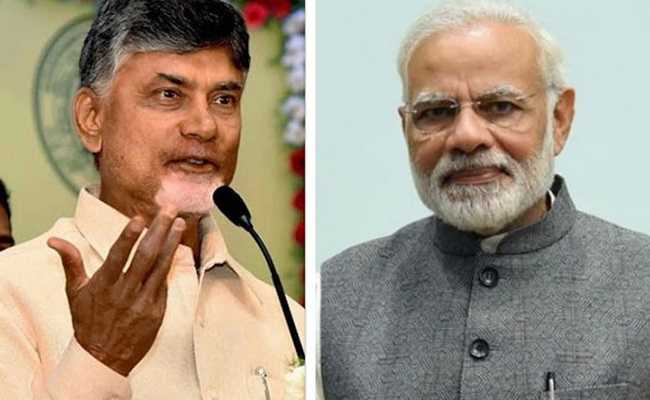 Telugu Desam Party president and former Andhra Pradesh chief minister N Chandrababu Naidu is said to be on cloud nine.
Reason: He is going to meet Prime Minister Narendra Modi once again in a span of four months.
According to reports, Naidu has got an invitation from the Central government to attend an all-party meeting to be convened by Modi at New Delhi on December 5 to seek their advices on the role to be played by India in G-20 nations.
India has recently been selected as the head of the G-20 nations from December 1, 2022 to November 30, 2023. It has to preside over a series of meetings of this group and represent the country's interests.
Against this backdrop, the Prime Minister has convened a meeting of presidents of all political parties in the country to explain the significance of the G-20 and also seek the support of all parties in representing India's interests at the G-20 meetings.
As part of that, Naidu also got the invitation from Union parliamentary affairs minister Prahlad Joshi, asking him to attend the meeting to be addressed by Modi at Rashtrapathi Bhavan at 5 pm on December 5. Joshi personally called up Naidu and explained the significance of the meeting.
As expected, the invitation from the Centre has made the TDP jubilant, though it is a matter of routine exercise to invite leaders of all political parties.
The pro-TDP media has already started describing it as a great recognition for Naidu and an acknowledgement of his administrative skills.
One section of yellow media has quickly cooked up a story saying Naidu is going to get an opportunity to have one-on-one meeting the Prime Minister and that would have huge political significance for the Andhra politics, in the wake of the next assembly elections in the state in 2024.
Even when Naidu got an invitation from the Centre for the Azadi Ka Amrut Mahotsav meeting in New Delhi on August 7, this yellow media went ga ga over the meeting, where the Prime Minister had a handshake with the TDP chief.
It was a front-page story for both Eenadu and Andhra Jyothy as if it was the most significant national development of the day, though it was just a courtesy handshake and part of exchange of pleasantries by the Prime Minister with everybody.
In fact, Modi had a handshake with everybody, including his bitter critic, West Bengal chief minister Mamata Banerjee, who was also present there.
However, Modi had a chat for a minute or two with Naidu, who had come to Delhi for a long time. Apparently, he made a casual enquiry about Naidu, his health and his family; and said: "let us meet up again."
But the yellow media sought to project it as an indication to the changing stand of Modi towards the TDP in general and Naidu in particular. It also reported that the BJP national leadership is getting ready to restore ties with the TDP.