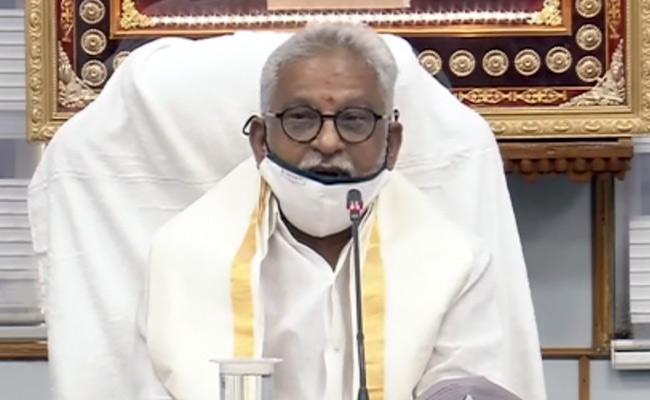 Senior YSR Congress party leader and ex-Lok Sabha member Y V Subba Reddy has been renominated as the chairman of Tirumala Tirupati Devasthanams trust board for a second consecutive term.
This was announced by state government advisor (public affairs) Sajjala Ramakrishna Reddy, as part of declaring the list of the YSRC leaders appointed for as many as 135 nominated posts, at a press conference at Tadepalli on Saturday.
Sajjala said chief minister Y S Jagan Mohan Reddy has decided that Subba Reddy be re-appointed in the TTD trust board chairman post.
"Subba Reddy would continue in the post for a period of two and a half years," he said.
Several ministers, YSRC leaders, party workers and supporters congratulated Subba Reddy on his re-nomination for the TTD trust board chairman post.
Subba Reddy, the maternal uncle of the chief minister, completed his two-year term on June 21 and with him all the members of the TTD trust board came to an end.
The state government appointed a specified authority in place of the trust board with executive officer K S Jawahar Reddy as the chairman and joint executive officer A V Dharma Reddy as the vice-chairman.
There were reports that Subba Reddy was not very much interested in continuing as the TTD chairman but wants to play an active role as a public representative.
He told the reporters that he was happy with the service of Lord Venkateshwara in the capacity of TTD chairman for two years and he now wants to be in the direct public service.
He regretted that despite being in the party for several years, he could not do anything for the people who stood by him and the party right from the beginning.
"I have not done justice to the party workers. So, I feel I would be able to serve the people and the party workers if I come back into the direct politics," Subba Reddy said.
He said he had brought his thoughts and views to the notice of the chief minister and requested him to give an opportunity to return to direct politics.
"However, I will abide by whatever decision the high command will take," Subba Reddy said.
Subba Reddy reportedly requested Jagan to nominate him to Rajya Sabha ticket in 2022, but the chief minister wanted him to continue as the TTD trust board chairman.