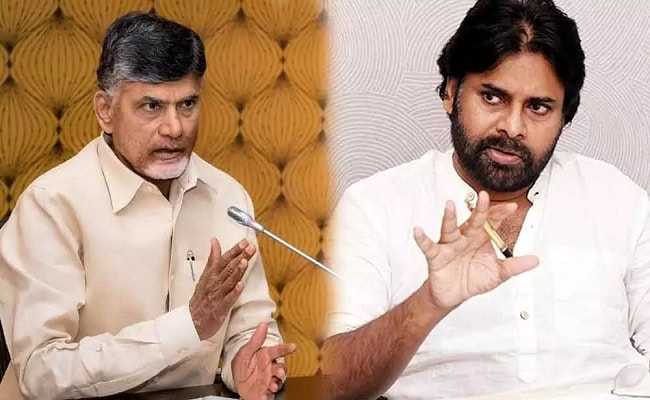 It has not even been two days since Jana Sena Party president and power star Pawan Kalyan met Telugu Desam Party president N Chandrababu Naidu in Rajahmundry central jail and declared that his party would go to the coming assembly elections in Andhra Pradesh in alliance with the TDP.
Both Pawan and Naidu's son Nara Lokesh announced that they would have a coordination committee to decide on the seat sharing and the strategies to fight unitedly against the Jagan Mohan Reddy government.
But the social media has already started speculating over the seat sharing between the TDP and Jana Sena Party and even decided the number of seats to be allotted to Jana Sena by the TDP.
According to one such report, the TDP has offered 25 assembly seats and three Lok Sabha seats – Kakinada, Narasapuram and Anakapalle – to Jana Sena Party.
The report also decided that sitting rebel YSR Congress MP K Raghu Ramakrishna Raju would join the Jana Sena Party and contest from Narasapuram.
It further said Pawan Kalyan would contest from Gajuwaka assembly seat once again and Jana Sena Party political affairs committee chairman Nadendla Manohar would contest from Guntur (west).
The social media report also made a prediction of the scenario in case the Bharatiya Janata Party also joins the alliance.
It said in such a scenario, the TDP would offer one Lok Sabha and two assembly seats – Narasaraopet Lok Sabha seat and Kaikaluru and Viskahapatnam (north) assembly seats.
While state BJP president Daggubati Purandeshwari would contest from Narasaraopet Lok Sabha constituency, Kamineni Srinivas will contest from Kaikaluru and P Vishnu Kumar Raju from Visakhapatnam (north) to the state assembly, the report said.
Interestingly, another report is also doing rounds on social media. It is a press note purportedly issued by Jana Sena Party in the name of Nadendla Manohar on Thursday.
It said since Jana Sena is unlikely to get the "glass tumbler" election symbol from the Election Commission of India, all the Jana Sena Party candidates would be contesting only on the TDP symbol – cycle.
The press note, written in Telugu, quoted Nadendla asking the Jana Sena Party workers to work in tandem with the TDP, since they would be treated as TDP candidates only. Enquiries revealed that it was a fake press note!